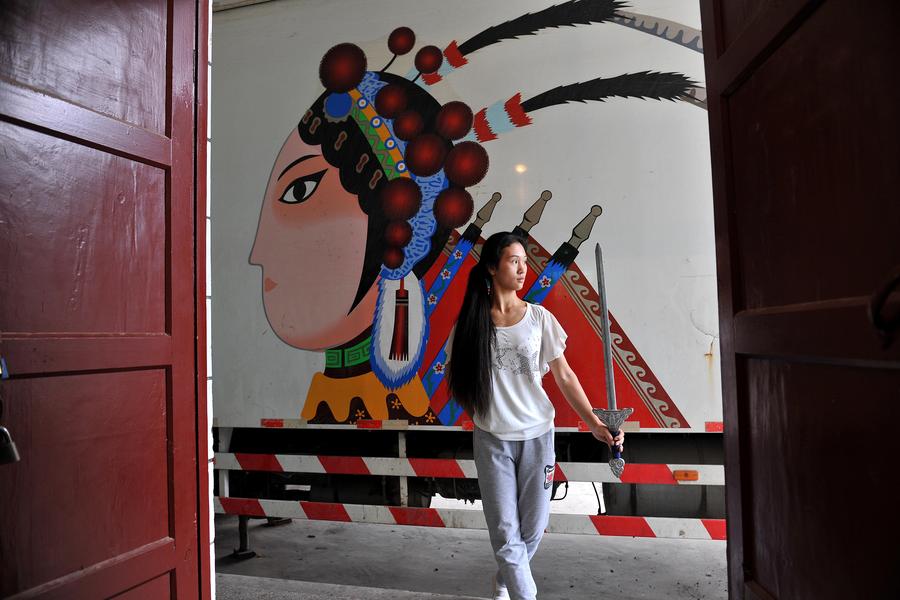 A puppet opera artist rehearses at an art institute of the puppet opera in Ruicheng county, Shanxi province, August 6, 2014. [Photo/Xinhua]
Ruicheng puppet opera, popular in Ruicheng county and other counties in Shanxi province, is sonorous and fresh, yet melodious and lingering. Performances in earlier days were characterized by the combination of singing and operating puppets to live music.
Having learned the style of singing from the Puzhou Bangzi opera, Ruicheng puppet opera gradually developed over the years into an art form featuring great regional distinctiveness with real artists performing on the stage instead of puppets.
In recent decades, Ruicheng puppet opera has been on the decline. To protect and carry on the tradition, Ruicheng county vigorously shoulders the responsibility of taking action. Experienced artists are engaged in mentoring the young, who are determined to carry on their own puppet opera.
Under the careful tutelage of experienced puppet opera artists, the new trainees have made great progress in singing and playing the specific musical instruments. The local government, business community and residents have joined the effort to preserve the art and Ruicheng puppet opera starts to get out of financial trouble and is revitalized. Ruicheng puppet opera has been listed as an asset of state-level intangible cultural heritage.