Scent of the season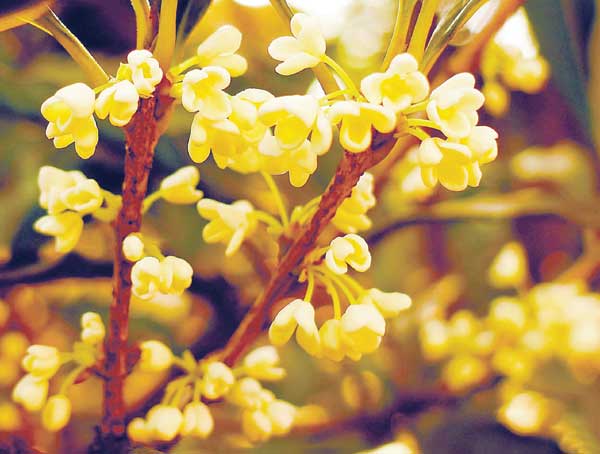 LITTLE LADIES: The blossoms of the osmanthus are the flavors of the month. [Provided to Shanghai Star]
The little creamy yellow flowers are not flamboyantly visible, but there is no way you can ignore them in full bloom. Pauline D. Loh goes botanical.
Osmanthus wine. Osmanthus tea. Osmanthus jam. Osmanthus cake. Osmanthus candy. The list is endless when it comes to eating this flower. It's early autumn in Shanghai, and the sidewalks are scented with the faint fragrance of the osmanthus, a tiny flower with a huge scent. This little blossom is also very Chinese, as most of its known hybrids are found in the south, and southwestern parts of the country.
As far back in history as we can remember, the osmanthus (osmanthus fragrans) has been a part of the Chinese culinary and cultural heritage. For children, the tale often begins with a love-lorn man in the moon, condemned to chop down an indestructible osmanthus tree as punishment for killing his wife's lover.
In literature, the osmanthus flower is lauded and sung for its unassuming appearance but unforgettable fragrance, often compared to a retiring village lass with her pure, unsullied beauty. Volumes of prose and poetry have been written in praise of this humble little bloom.
But it is in the culinary world that the osmanthus has made an indelible impression.
The flowers are picked, dried and carefully preserved in wine, used to infuse tea, and cooked into jams and sauces to season all kinds of desserts.
Osmanthus wine, with a base of baijiu or white liquor, is infused with the dried flowers, and drunk during autumn, usually in accompaniment to seasonal delicacies such as the plump crabs that are just fattening up with roe and milt. Those who subscribe to temperance enjoy a milder beverage — osmanthus tea. The best known osmanthus tea actually comes from Fujian province in South China, where the semi-fermented green tea known as wulong is infused with osmanthus, creating a tea with a delicate aroma.
This is the choice of connoisseurs, who prefer a semi-fermented green tea for autumn, the season of transition from the humid heat of summer to the bitter cold of winter.
Osmanthus wulong is also popular among many Western tea drinkers who have become aficionados of lighter-flavored Chinese teas, and this blend is valued for its soft golden hues and light, sweet fragrance.