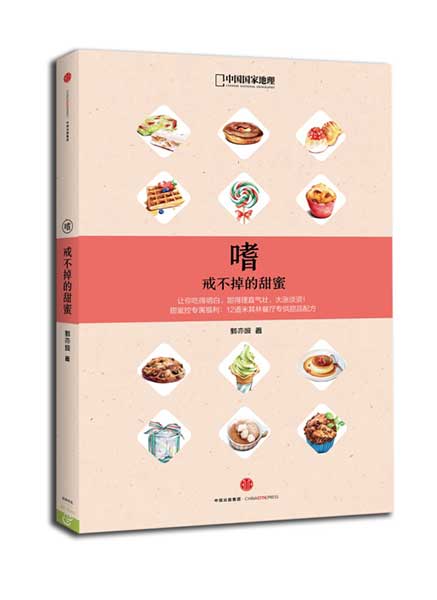 A new book about sweet foods.[Photo provided to China Daily]
Humans are known to have collected honey from beehives since about 10,000 years ago, and in many languages of the world, "honey" is often used as a word to describe happiness.
The story of honey marks the opening chapter of a newly published book by Chinese National Geography, titled Addicted: Irresistible Sweetness.
The leading Chinese-language magazine plans to publish a series of books on food, and the new launch is the first of the series.
As one of the five basic tastes, sweetness is among the most desirable experiences for people. But in ancient times, when people didn't know how to extract sugar from natural sources, wild honey offered them a taste of intense sweetness, with its 80 percent natural sugar, mostly fructose and glucose.
Among other high-sugar content natural sources are dates, with 62 percent sugar. Most other fruits have less than 50 percent natural sugar.
The book, written in a light-hearted manner, has about 120,000 words and many photos and graphics. In addition to honey, Addicted: Irresistible Sweetness gives a comprehensive account of the history, ingredients and processes used to make sweet foods, such as chocolate, toffee, nougat, cakes and fruit preserves.