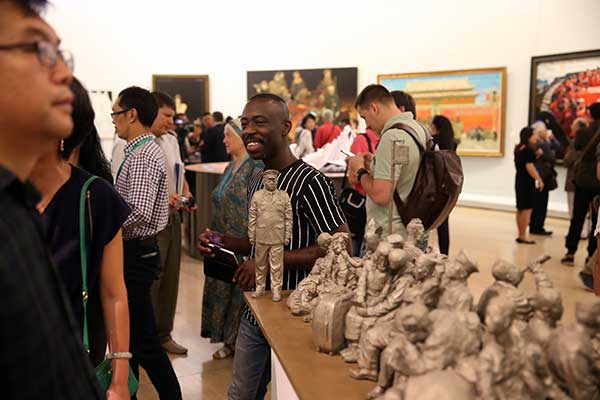 This year's Beijing International Art Biennale shows how Chinese and foreign artists elaborate on motifs of memories and dreams.[Photo by Jiang Dong/China Daily]
Canadian and South African artists look to the past for Beijing show, Lin Qi reports.
The ongoing sixth Beijing International Art Biennale at the National Art Museum of China focuses on the latest developments in the worlds of painting and sculpture, but it also includes other artistic forms, such as photography and video, to enhance the theme of "memory and dream".

The Canadian exhibition, one of the six special country shows at BIAB, offers the audience a glimpse into the country's contemporary art landscape with a display of oil paintings, installation, videos and mixed-media pieces.

The variety of artworks celebrate 45 years of Sino-Canadian diplomatic relations as well as the Cultural Exchange Year between the two countries.

Co-curators Matthew Brower, director of museum studies at the Faculty of Information, University of Toronto, and his former Chinese student and art curator Yan Zhou, have brought together 10 Canadian artists whose works are themed on "mediated memories".

"We want to show the way in which memory is embedded in cultural forms, and how artists invest in family memories to make a connection with remembrance and (a sense of) loss," Brower tells China Daily.

The Canadian exhibition has several photos and other works done using a photography technique, and Brower says it is not only because he is interested in photography. He says that a lot of the most significant artworks that have been done around the motif of "memory" in Canada today are happening in film, video and photography. Hence they better help Chinese viewers to understand the context of the Canadian art scene.