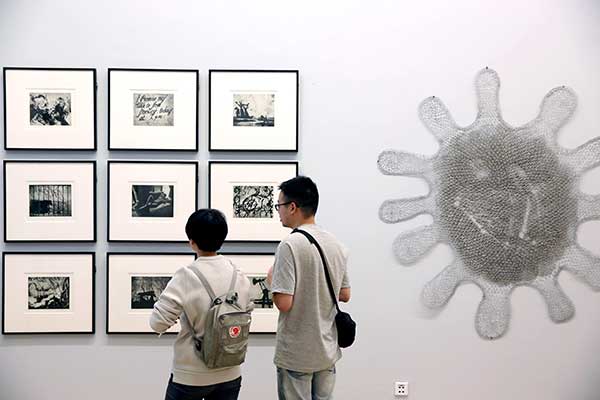 This year's Beijing International Art Biennale shows how Chinese and foreign artists elaborate on motifs of memories and dreams.[Photo by Jiang Dong/China Daily]
A view of Rainbow Nation
The South African exhibition displays a diversity in artistic approach when it comes to viewing the "Rainbow Nation" in the post-apartheid era.
Works of established artists such as William Kentridge and a younger generation narrate different personal experiences of democracy formed over the past two decades.
Karen von Veh, associate professor of visual art with the University of Johannesburg who co-curates the exhibition, asks people to pay special attention to the creativity and depth of the young artists.
"There are so many different cultures and languages-we have 11 official languages in South Africa. Everyone is figuring out how they work with the new (social) system after the end of apartheid.
"The works of young people explore the issues around identity: Who they are and how they can fit into society," she says.
In Jaco van Schalkwyk's canvas Prayer Around the Bones, the Dutch descendant, 34, documents the daily scene of a closed religious community where he grew up and which is not familiar to many South Africans. Jamy van Zyl uses a pen and a marker to create his illustration called Hana on a piece of traditional Japanese paper called washi. Hana is based on a Japanese girl whom he knew online. His work looks at the positive side of cyber connectivity, which binds people together despite cultural differences.
"Every artist captures a snapshot of life. Some critique social malpractices and others show the good side. In general people will get a sense of where South Africa comes from," says Gordon Froud, a senior lecturer of visual art at the University of Johannesburg and a co-curator.
The exhibition runs through Oct 15.