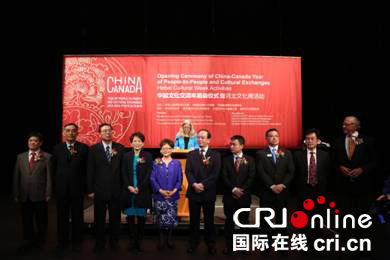 Guests pose for a group photo at the ceremony of 2015-2016 China-Canada Year at the Chan Centre for the Performing Arts in Vancouver, Canada, April 13, 2015. [Photo/cri.cn]
The 2015-2016 China-Canada Year of People-to-People and Cultural Exchanges has been launched at the Chan Centre for the Performing Arts at the University of British Columbia (UBC) in Vancouver,Canada on April 13, 2015.
The opening ceremony was attended by Vice Minister of Chinese Ministry of Culture Ding Wei and more than 150 representatives from the Chinese Consulate in Vancouver, the federal government of Canada, the governments of British Columbia and Vancouver, as well as local media, business and culture associations.
"The China-Canada Year is a two-year cultural exchange program," said Ding, "There are 26 major cultural exchange projects with more than 100 showings confirmed as part of the event. These include Canada-China film and TV co-productions, friendship city exchanges, as well as mutual visits by each country's visual artists, craftspeople, performers, authors and museum exhibitions."
The China-Canada Year was initiated by Chinese Premier Li Keqiang and Canadian Prime Minister Stephen Harper during his last visit to China in November, 2014.
It coincides with the 45th anniversary of the establishment of China-Canada diplomatic relations and the 10th anniversary of the two countries' strategic partnership.
Vice-Minister of Culture said it will be another solid demonstration of the keen interest and enthusiasm of the two governments and peoples for cultural exchanges.
"We hope that the China-Canadian Year will inject new momentum to drive forward the overall China-Canada relationship," said Ding.
The ceremony also marked the launch of Hebei Cultural Week in Canada. The galleries outside the ceremony hosted live demonstrations of Hebei Province's folk arts, including inner painting, clay sculpture and marble photo-engraving.
After the ceremony, representatives and local audiences attended an exhibition of Hebei folk arts and a concert presented by the National Chinese Traditional Orchestra.