UN appoints Daniel Craig as Global Mine Action Advocate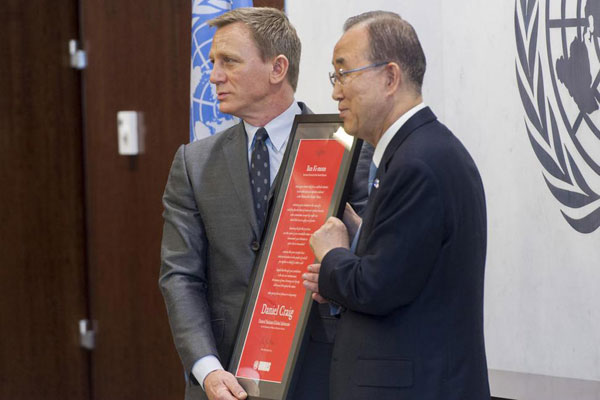 Secretary-General Ban Ki-moon (right), appoints actor Daniel Craig as the first UN Global Advocate for the Elimination of Mines and Explosive Hazards. [Photo/Agencies]
The United Nations has given 'James Bond' a "license to save."
Daniel Craig, the man who plays the current incarnation of James Bond, has been appointed a UN global advocate for the elimination of mines and explosive hazards.
"He's known as 007, James Bond. I am 008 United Nations Secretary-General Ki-Moon Bond. I'm very happy that you have agreed to use your global star power to raise awareness and global action to destroy mines which have been killing many people. You have been given license to kill. I'm now giving you a license to save," said UN Secretary-General Ban Ki-moon.
When he's not acting, Craig will spend the next 3-years raising awareness for the UN Mine Action Service, drumming up both political and financial support for the cause.
The late-Princess Diana was one of the world's leading advocates for the elimination of land-mines, working with the UN for years until her death in a Paris car crash in 1997.
Related:
Actress Emma Watson urges more men to fight for gender equality