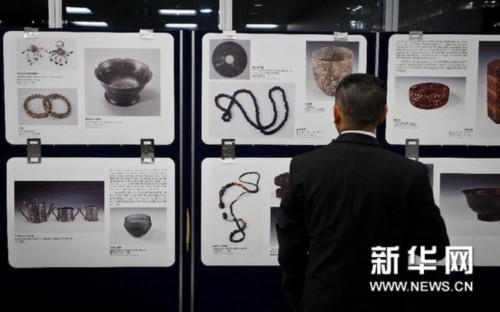 A visitor enjoys photos during the exhibition on Maritime Silk Road at UN headquarters. [Photo/Xinhua] 
A photo exhibition on Maritime Silk Road opened at UN headquarters on Monday, showing trade and cultural exchanges between China and the rest of the world over 2,000 years ago.
The exhibition selected photos of around 200 artifacts, including porcelain, silk, pottery, ancient coins to present a prosperous picture of trade along the Maritime Silk Road, which wound its way from East Asia to East Africa and to Europe via the Red Sea.
"Today's exhibition brings back those old memories -- camel bells braving the deserts; vessels lining up the ports; envoys exchanging pleasantry; and foreign merchants rubbing shoulders on the streets," said Liu Jieyi, China's permanent representative to the UN when addressing the opening ceremony.
Liu also mentioned China's two initiatives to build a Silk Road Economic Belt and to develop a 21st Century Maritime Silk Road, saying that they represent China's firm commitment to the rejuvenation of Asia and to harmony and development in the world.
"The Belt and the Road are getting off the ground, with the inception of a Silk Road Fund recently announced by the Chinese government and the signing of an MOU on establishing the Asian Infrastructure Investment Bank by over 20 countries in Asia," he added.
"The photo exhibition today will showcase how the Chinese nation interacted peacefully with other nations in the past, and how the philosophy of peace and common prosperity has underpinned and will continue to guide China's present-day diplomacy," he said.
The exhibition will last five days till Dec 20.