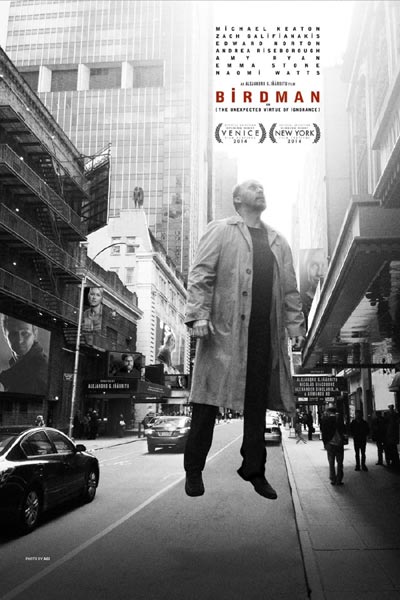 The poster of Birdman [Photo:Mtime.com]
The 2015 Golden Globe nominations have been announced, and Alejandro Inarritu's dark comedy "Birdman" was the most honored film with seven nods.
The film, which stars Michael Keaton as a washed-up superhero film star trying to revive his career on the stage, secured another boost for its awards season hopes.
Tied for second in the Globes nominations tally were coming-of-age drama "Boyhood" and Nazi code-breaking thriller "The Imitation Game" with five nominations each.
British actor Benedict Cumberbatch was nominated for best actor for his role in "The Imitation Game."
Other nominees for best actor in a drama were Steve Carell, David Oyelowo, Eddie Redmayne and Jake Gyllenhaal.
Nominations for the best actress category went to Quvenzhane Wallis, Julianne Moore, Helen Mirren, Amy Adams and Emily Blunt.
In the TV categories, the best drama series nominations went to "The Affair," "Downton Abbey," "Game of Thrones," "The Good Wife" and "House of Cards."
The 72nd annual Golden Globe Awards will be handed out on January 11 in Beverly Hills.
Related:
Three Chinese films nominated for Golden Globes
109 screenwriters support Taiwan novelist in plagiarism case