A series of landscape paintings showing the renowned art master Li Keran's world were recently unveiled at the Art Museum of the Beijing Fine Arts Academy in memory of the 25th anniversary of the artist's death.
More than 70 pieces of representative landscape paintings created between 1943-1989 are on display. Among them, the highlight is two paintings named Mountains Are Reddened, which are among the seven paintings created under one theme by Li Keran in the 1960s.
One painting among the seven was sold for nearly 300 million yuan (around $48.5 million) in a Poly's auction in 2012. The two paintings exhibited this time are from the museum's collection and Li's family's donation, respectively.
The exhibition will run through Jan 5.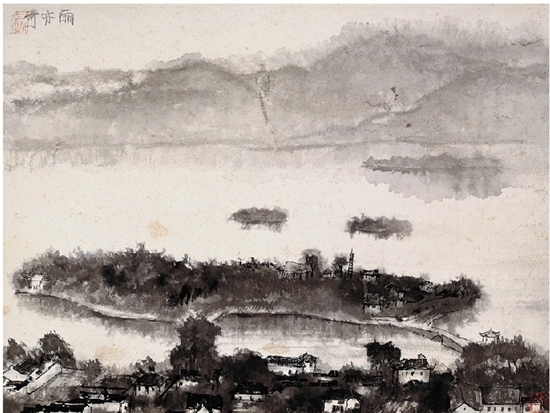 Miraculous Rain, 1954, 44×59cm, by Li Keran. [Photo/Zhejiang Online]
This painting depicts the scenery of West Lake in Hangzhou on a rainy day. When Li Keran was creating the painting on the bank of West Lake, he intentionally let the rain drop on his painting paper and the ink on the paper was more or less diluted. The name Miraculous Rain on one side means the scenery is breathtaking, and on the other means the participation of rain in his drawing produces surprising effects.