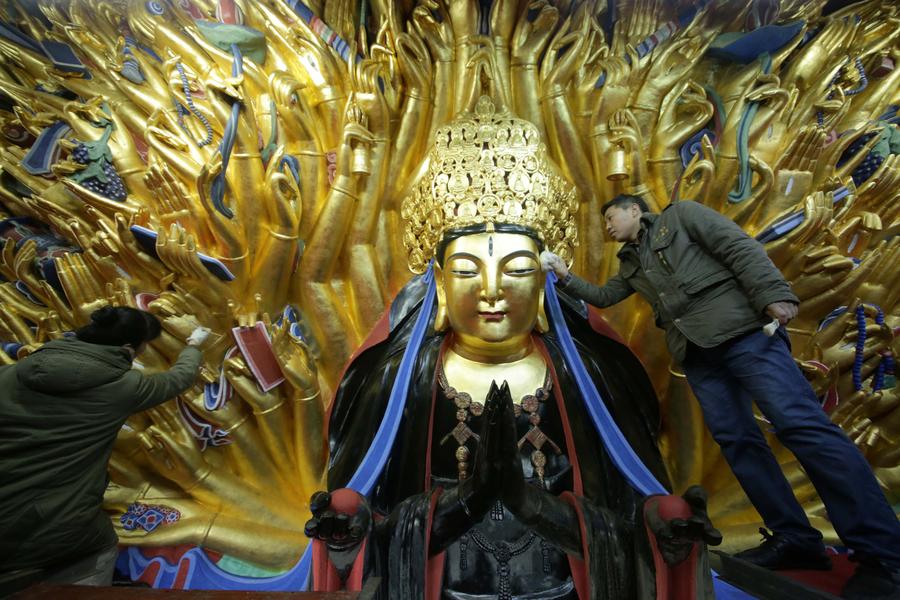 Staffers repair a statue of Buddha at a conservation site for the Thousand – Hand Kwan-yin at Baoding Mountain in the Dazu district of Chongqing Municipality, Jan 9, 2015. [Photo/Xinhua]
So far, 800 hands of the Thousand – Hand Kwan-yin have been gilded and the entire restoration is drawing to a close. It is expected that the main part of the project will be finished before Spring Festival.
After that, staffers will have to refine the details and the overall color blending. Then they will reexamine the remediation effect using technological means such as X-ray and 3D laser scanning and collect all the restoration information and materials. The whole project is scheduled to be finished before the first half of this year.
The statue of Thousand – Hand Kwan-yin is a major attraction of the Dazu rock carvings that features one of the world's most valuable cultural heritages. Due to water seepage, weather damage, breakage and flaking of the gold foil, the conservation project for the statue was launched in April of 2011.