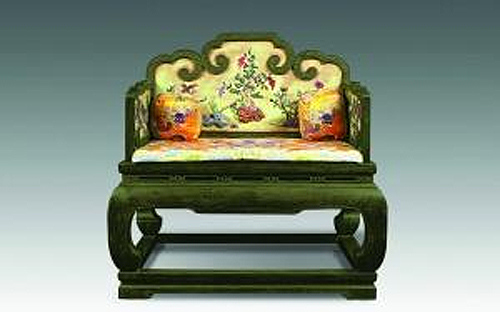 Emperor Qianlong's throne. [Photo/Chinanews.com]
A throne belonging to Emperor Qianlong (1736-1795) during the Qing Dynasty has sold for 32 million yuan ($5.15 million) at an auction in Nanjing, East China's Jiangsu province, the Modern Express reported on Monday.
The seat, made of rosewood and inlaid with gold and an exquisite floral pattern, was owned by philanthropist Li Chunping and given a starting price of 30 million yuan.
After three rounds of bidding, a mysterious buyer from Beijing bought it for 32 million yuan.
Li said the final price was lower than he expected and that the throne will be valued at over 100 million yuan after two or three years.
He also said it took him three years to buy the throne from a descendant of a royal highness of the Qing Dynasty in Tianjin.
Li promised to donate the money from the auction to charitable causes.