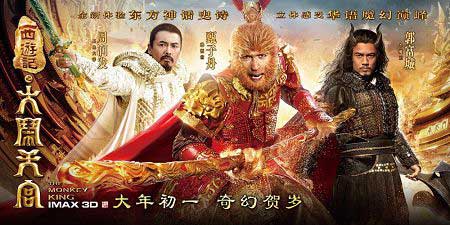 Film poster of The Monkey King. [File photo]
Ticket sales for domestic films in China could be greatly improved if the market focused more on the needs of audiences in third- and fourth-tier cities, said a report by Business Value magazine.
According to the article, the real barrier that domestic films face is not foreign film imports, but the language and cultural wall between audiences in China's smaller towns and the imported blockbusters.
The reports also states that these audiences may tolerate the inferior quality of domestic films, and in fact, they may want to progress alongside domestic films. The more educated viewers, especially those in first-tier cities like Beijing and Shanghai, are more likely to embrace Hollywood blockbusters.
China has a dual market – one for the first- and second-tier cities and another for third-, fourth- and smaller cities – and the two differ completely when it comes to preferences.
Take the 3D movie The Monkey King for example.
The film, based on the Monkey King from Chinese classic literature Journey to the West, pocketed 1 billion yuan ($160 million) in ticket sales. Viewers in third- and fourth-tier cities contributed to a major part of the sales. In contrast, viewers in first and second-tier cities did not enjoy the film as much. The same pattern applies to domestic films Switch and Tiny Times series.
This phenomenon is also evident in China's music industry.
Publishing music over the Internet has become very popular in China. These songs, often based on the lives of those in rural areas, are loved by those from third- and fourth-tier cities, but less so by those in more developed regions.
"The secret to some of the high box office sales for domestic films lies in the rural areas. There is a large market here for new and smaller companies to tap into," says Business Value.
Related:
Hit reinvigorates Tiger Mountain