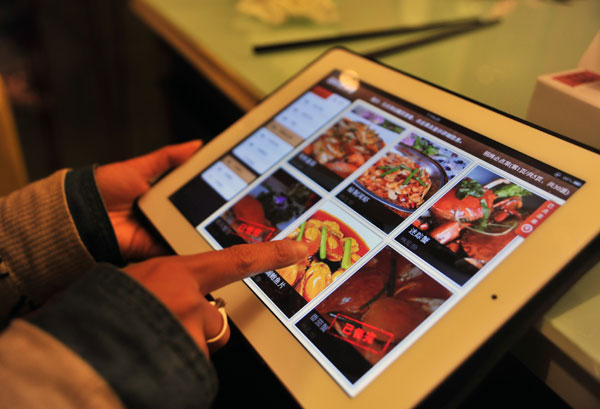 A customer uses a tablet to order food at a restaurant in Wenling, Zhejiang province. It becomes a trend that people order food and pay via WeChat, a popular Chinese smartphone application.[Photo by Zhu Haiwei/China Daily]
Busy Chinese restaurants are using smartphone apps to cut down on long lines, making customers happy, Chen Nan reports.
It's around lunchtime. Office workers in the Wangjing area, one of Beijing's fast-growing business districts, have to wait patiently to fill their stomachs at crowded restaurants nearby.
But Zhao Ying, a white-collar clerk, is in no hurry to rush out. She uses her smartphone to place her order: dumplings and a bowl of congee. After paying via WeChat, a popular Chinese smartphone application, she heads to Green Bites, the restaurant she's just ordered from.
"It can be very frustrating to wait in long lines during peak hours. You're hungry, anxious and stuck there," says Zhao. "It's great if you can reserve your seat and order your food just like online check-in for flights."
Green Bites, a Chinese fast-food restaurant, is an eatery that's investing in technology to better estimate waiting times and offer customers both WeChat self-service and traditional counter services. Its owner Bao Chun, opened the original restaurant in Beijing's Sanlitun area in 2011, which now has expanded with branches at Wangjing and Guomao, the capital's Central Business District area.
He started using the smartphone application-based new food ordering and payment system at the Wangjing branch restaurant early last year, and says he's seen a jump in customer satisfaction ever since.
"The competition in the casual dining sector is fierce, and new technology helps dealing with wait-time frustrations," says Bao, who plans to open three more branches this year that will use new technology to help customers. "People will come to a restaurant more frequently if they know they can get in and out quicker."