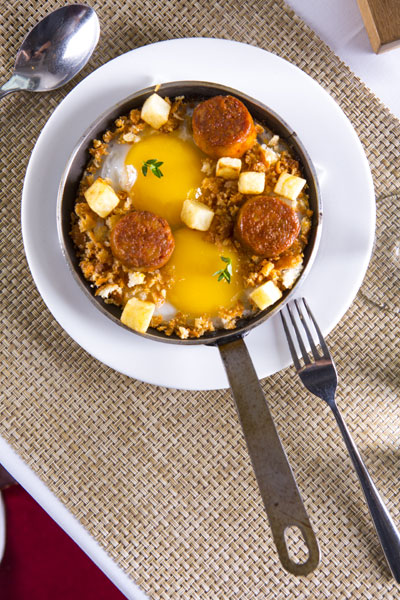 Chorizo sausage and egg skillet. [Photo provided to China Daily]
Last Sunday turned into a gaggle of little plates, as I joined two friends at chef Jordi Valles' popular "Infinity Brunch" at Agua.
As the third course arrived, I hear a contented sigh on my right, where a beef tenderloin has arrived with a mash of sweet potato on the side. The steaming meat is perched in an aromatic puddle of sauce laced with balsamic vinegar.
"If I could stick my face in this reduction, I would," says my friend.
Valles is used to such accolades: Since its opening, the popular restaurant now in the Sanlitun area's Nali Patio has regularly scooped awards from local city magazines: best new restaurant best brunch, best Spanish restaurant . The half-suckling pig and the juicy lobster rice are acclaimed signature dishes at dinnertime, but today we are checking out the much-ballyhooed weekend brunch.
At midday, the high-ceilinged restaurant is bright and airy, with flamboyant flamenco prints in black-and-white, and a rack of empty cava bottles on an opposite wall, mounted akimbo as if the empty vessels were dancing in the inviting white brick, industrial-chic atmosphere.
There are two weekend brunch options: A less-expensive set-menu brunch, and then what everybody around us was actually having: The Infinity. That's unlimited food for 298 yuan ($48); add 168 yuan for the free-flow drinks option.