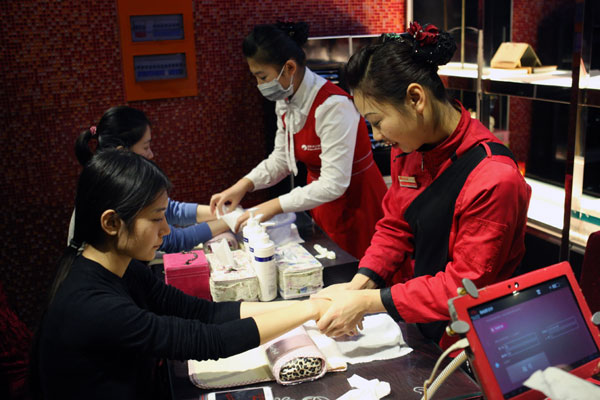 Customers waiting for tables at a Hai Di Lao restaurant in Beijing enjoy free hand massage.[Photo by Wang Zhuangfei/China Daily]
The app system has also enabled his restaurant chain to lower labor costs and make the serving process more efficient. Bao says his Guomao branch, which still operates with traditional counter services, has 30 seats and five people serving. The Wangjing branch, on the other hand, with 122 seats, also has only five waiters.
Bao uses a food-ordering app called Keruyun at his restaurant. It was provided to him by Peng Lei, a dining industry veteran turned IT solution provider. The 34-year-old entrepreneur who founded 24Quan, a Chinese group-buying service website, has developed Keruyun over the past two years.
So far, more than 2,000 restaurants across China use the app for food-ordering, paying, takeout and delivery, he says. The number of users has increased from 30,000 to 400,000 over the last year, according to Peng.
"Chinese people are foodies. Many restaurant operators know they're losing guests to long lines so they try hard to ease the frustration of waiting," says Peng. "It's pushing restaurants to take that step to invest in the customer-service technology."
He adds: "What we do is to work as a bridge between the restaurants and customers by reforming traditional restaurants service with mobile Internet."
Xibei Youmian Cun is another Chinese restaurant chain that uses Keruyun. The chain specializes in cuisines from Shanxi province and the Inner Mongolia autonomous region.
"Usually, people were confined to waiting in one area so they were blocking the door," says Bai Li, manager of Xibei Youmian Cun's Beixindian branch restaurant. "We used the screen tablet on the wall to announce a customer's order number, but many times people wouldn't see the screen and they missed their order.
"To alert the customers, we would have to use a loud speaker, which made too much noise. It just wasn't worth it."
Today, waiters can text or call guests automatically through the app when a customer's table is ready. That allows people to shop, or simply walk around, while they're waiting to be seated, adds Bai.
"After all, everything about the service industry now is to improve customer experience."