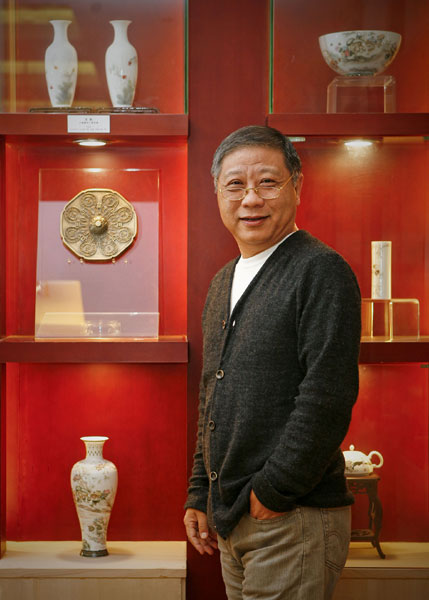 Zhang Shuyang, watchkeeper. [Photo provided to China Daily]
Chinese watchmaker Zhang Shuyang heads to Baselworld with the mission of bringing world attention back to the masters of porcelain. Wang Kaihao reports.
Zhang Shuyang, a Shanghai-based veteran porcelain collector but a relatively new watchmaker, will unveil his new watch designs at this year's Baselworld-the world's leading watch and jewelry show that is expected to be held in Basel, Switzerland, in March.
Although in his 60s, Zhang, only a year after launching his own watch brand, comes across as a maverick. His timepieces include porcelain watch dials in shining colors and watch hands carved in oracle bone script, the oldest Chinese characters dating back to around 3,000 years ago.
"If I want to enter such a mature industry, how would it work if I am not brave?" he asks.
As a collector, Zhang has looked at the outside world for items, but his main focus has been China, where he's able to find a great variety of ceramics, watches and ancient coins.