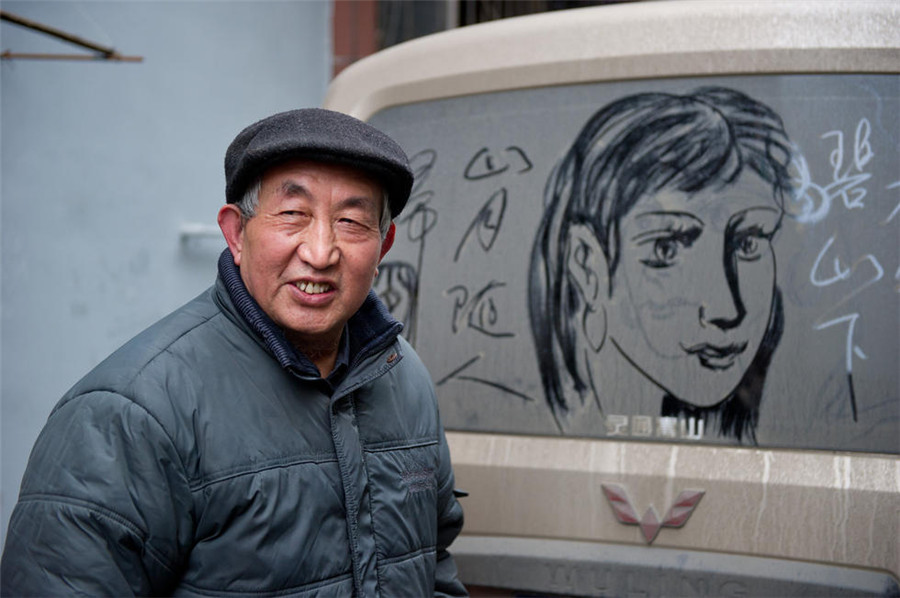 Xiao Xiangzhong and his drawing on a car window covered with dust in Chengdu, Jan 8, 2015. [Photo/Youth.cn]
A series of dust drawings have gone viral online, and the "painter" is Xiao Xiangzhong, a 67-year-old retired Chinese teacher.
Netizens were amazed by the vivid artworks and some said if the drawings were on their cars, they would not be willing to wash the car.
With the napkin as his brush and a window as his canvas, Xiao has drawn like this for several years. He once studied painting for one year when he was young and since then he's been in love with drawing.
According to Huaxi City Daily, Xiao said that drawing is his only hobby that can bring visual enjoyment to people, and wipe the windows for car owners as well.
Actually, Xiao is already quite well-known by his neighbors, as people always see his creations, such as a palace lady or a modern woman, on the windows of someone's car.
They said that when Xiao was out for a walk and saw a car with dust, he would take out the napkins and began his creations. His drawings are mainly themed on landscapes and ancient beauties.