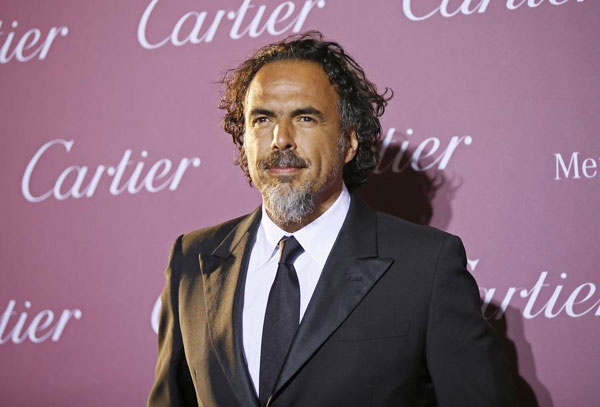 Birdman" director Alejandro Gonzalez Inarritu, who is receiving the Director of the Year Award, poses at the 26th Annual Palm Springs International Film Festival Awards Gala in Palm Springs, California in this January 3, 2015 file photo. [Photo/Agencies]
Show business satire "Birdman" and colorful caper "The Grand Budapest Hotel," on Thursday captured nine Academy Award nominations each, including best picture, for a year recognized for its original feats in filmmaking.
Joining the two Fox Searchlight releases in the best picture race is "Boyhood," whose director, Richard Linklater, pushed cinematic boundaries by making it over 12 years with the same actors.
"Boyhood" received six nominations overall and comes to the race as a frontrunner after winning the Golden Globe for best drama last weekend.
"It's harder and harder to get any film made, and all of these movies are really original and difficult," said Tim Gray, awards editor for entertainment industry publication Variety. "On the scale of difficulty, all of these are off the chart."
British World War Two biopic "The Imitation Game" garnered eight nominations, including best picture and best actor for Benedict Cumberbatch. "American Sniper," an Iraq war film by director Clint Eastwood, also earned six nominations, notably best picture and a surprising best actor nomination for Bradley Cooper as the sharpshooting hero.
Other best picture nominees were "Selma," a slice of Martin Luther King Jr.'s civil rights work, and "The Theory of Everything," a portrait of the marriage of physicist Stephen Hawking. Sundance festival winner "Whiplash" rounded out the field of eight competing for the top Oscar, a number that surprised some awards watchers since the Academy of Motion Picture Arts and Sciences can nominate up to 10.
If it was a good year for offbeat films, it was not so favorable for diversity, after inroads last year. Most notably, "12 Years a Slave" made history as the first film by a black director to win as best picture.
This year, in the 87th Academy Awards slate, there were no actors of color in the four acting races, and no women managed to crack the best director category.
"Selma" in particular seemed to stumble badly, picking up just two nominations, best picture and best song, despite speculation that it would fare well and that Ava DuVernay had a shot at becoming the first black woman to be nominated for best director.
"We can blame Hollywood for a lack of diversity, which we're seeing across Oscars today," said Tom O'Neil, founder of awards tracker Gold Derby. "It is the whitest Oscars in recent times in acting categories, and there is no gender diversity in directors."