Life on the land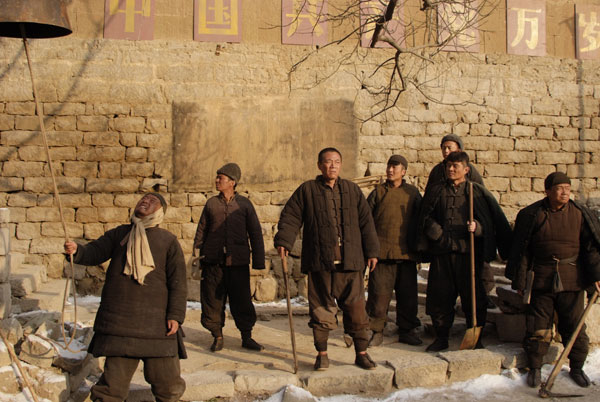 A scene from the 60-episode epic drama The Chinese Farmers, starring Chen Baoguo (center), depicting Chinese farmers' struggles to survive over more than half a century. [Photo provided to China Daily]
Gao Mantang savors the opportunity to write a TV series about the real-life experiences of China's farmers, and the not-so-trendy subject is winning an audience, Xu Fan reports.
The question media most frequently pose to Gao Mantang revolves around his ranking for the second time as China's richest scriptwriter. However, the highest-earning author in the country's TV industry says he doesn't care about the list.
"The so-called No 1 is much less significant than the first place my works gain in the audience ratings," says the 60-year-old, who looks fatigued after a four-hour seminar with a slew of top television program researchers in downtown Beijing on Dec 29.
One month earlier, the Liaoning province native made headlines when it was announced he topped China's richest screenwriters' list again, with about 22.5 million yuan ($3.6 million) in total revenue in 2014, a bit lower than his 2013 income of 30 million yuan.
Though unwilling to respond to questions about his income, the author shows strong conviction in his latest work, The Chinese Farmers (Lao Nongmin), a 60-episode epic drama depicting Chinese farmers' struggles to survive over more than half a decade.
"If my script is no good, I will quit my job and leave the movie and TV industry forever," says Gao, whose confidence is getting a good test right now.
While the controversial royalty-themed serial The Empress of China, or The Saga of Wu Zetian, was halted for mysterious "technical reasons" during the last week of 2014, Gao's latest small-screen show jumped to the top slot of the nationwide audience rating in a 50-city survey. The Chinese Farmers has remained in second place behind the empress serial since the latter came back to TV on Jan 1.
Gao's latest serial is being screened by four provincial channels since it was premiered by Beijing Satellite TV on Dec 22. The plot depicts 60 years of struggling among Chinese farmers during the country's turbulent time of land reforms in 1948 to 2008, when land-use certificates gave farmers more rights to profit from their fields.