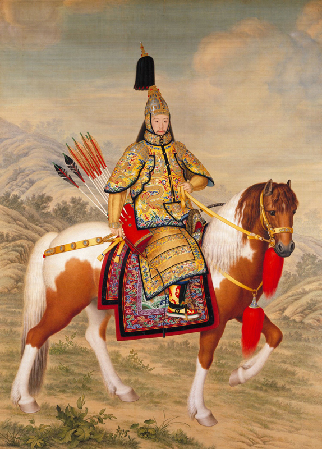 The Qianlong Emperor in Ceremonial Armor on Horseback,  by Giuseppe Castiglione. Hanging scroll, color on silk, 332.5×232 cm  [Photo/cultural-china.com]
This year marks the 90th anniversary of the establishment of the Palace Museum. Fung Ming-chu, the Taipei Palace Museum director, revealed that her organization will hold a series of celebrations with the Palace Museum in Beijing.
According to Fung, one important event agreed to by the two Palace Museums is an exhibition on court painter Giuseppe Castiglione to mark the 300th anniversary of his arrival in China. Eight compositions by Castiglione will be borrowed from the Beijing Palace Museum and displayed at the Taipei Palace Museum this October.
Castiglione took the Chinese name Lang Shining, witnessing the comings and goings of three emperors in the Qing Dynasty (1644-1911) – Kangxi, Yongzheng and Qianlong. Castiglione's paintings are a successful integration of Chinese and Western styles. He succeeded in modifying European painting techniques by discarding projection and diminishing the contrast between light and shade, while retaining three-dimensional effects and perspective.
Fung also said that the fourth Two Cross-Straits Palace Museums Symposium will be held, and the two Palace Museums are discussing the establishment of a cross-straits digital museum.