Alain Delon to attend BTV Spring Festival Gala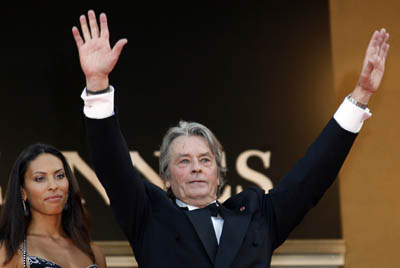 French actor Alain Delon arrives with an unidentified guest for a gala screening of the film "Chacun son Cinema" at the 60th Cannes Film Festival May 20, 2007. [Photo/Agencies]
Renowned French actor Alain Delon is coming to town to attend the Spring Festival Gala of the Beijing Television Stations.
The director of the BTV Gala says Alain Delon's charismatic image in the film Zorro can recall elder generation's fond memories of the good old days. His presence can create a feeling of nostalgia among viewers.
The director has also confirmed the attendance of the Ukrainian choir – La vivo, who gained fame for their interpretation of Chinese traditional songs.
The Gala is reportedly to go on air on February 19, the first day of the Chinese New Year.
Related:
Author to direct his online tale