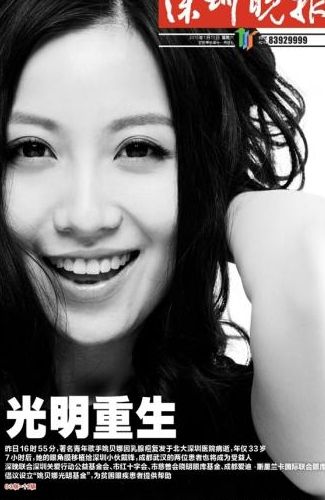 A previous coverage on Yao Beina's death by Shenzhen Evening News.
A Chinese newspaper issued an apology early Sunday for taking photos of a popular singer after she died on Friday from breast cancer at a hospital in Beijing.
The Shenzhen Evening News issued the apology to the family, friends and fans of singer Yao Beina on their official Sina Weibo account – a Twitter-like microblogging site. Yao passed away on Friday afternoon in Beijing.
"We sincerely apologize for the disturbance and discomfort we have caused to Yao's family, fans and netizens," Shenzhen Evening News wrote.
The statement confirmed that the paper's reporters entered the make-shift operating room to take photos as doctors took corneas from the dead singer Yao, at about 19:00 on Jan 16. Reporters deleted all photos at the scene when Yao's family showed opposition, and thus were forgiven by Yao's father, the statement said, adding that thereafter the newspaper have kept in contact with Yao's family over the incident.
Additionally, Shenzhen Evening News wrote in the statement that the paper together with four partners decided to withdraw an initiative to establish a foundation in the name of Yao Beina after opposition from Yao's father. The newspaper also promised that they would refund the first two donations they had received.