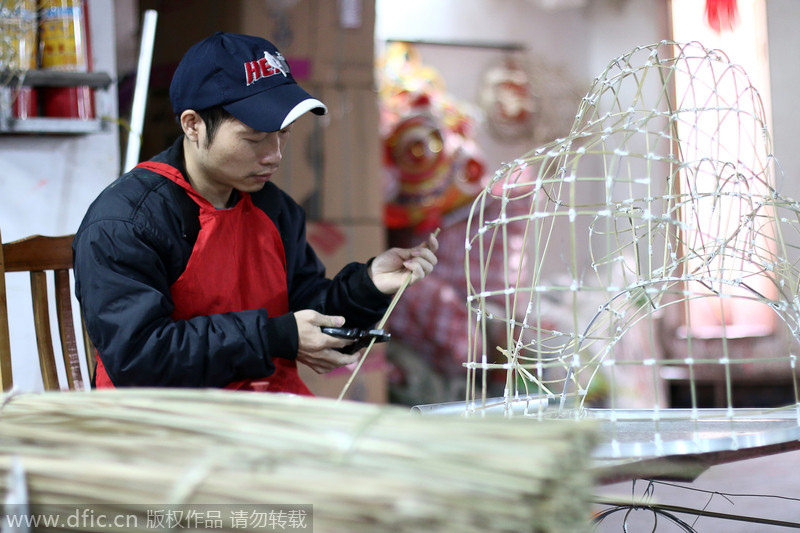 A worker builds a mask's framework in a traditional workshop for lion mask making in Guangzhou. [Photo/IC]
The lion dance is a kind of folk dance that is part of the celebration during major festivals in China. In traditional Chinese culture, the lion is regarded as a mascot that can bring people good luck. The dance has a long history of more than 2,000 years.
During its evolution, the lion dance has developed into two main genres – the Northern Lion Dance and the Southern Lion Dance. The Northern Lion Dance mainly focuses on the performance of the martial lion dance. The Southern Lion Dance focuses on the performance of a civilized lion dance and places much attention to movements like scratching an itch, shaking the hair or licking the hair.
In a lion dance performance, usually two people act as a lion: one man wears the lion's head and the other man waves the lion's body and tail. Or one performer acts as a cub and the other stands in front of the cub, holding a silk ball for the cub to play with.
The process of making a dancing lion mask is done mainly in five stages: construct a bamboo framework, stick on sandpaper, color it, fill it with fluff and air dry it.
A traditional workshop in the Baiyun district of Guangzhou still sticks to the traditional way of making lion mask, but the old handicraft now is facing a lack of people to inherit the skill.