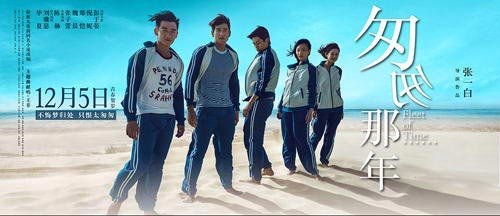 The poster of drama "Fleet of Time". [Photo/Agencies]
Domestic coming-of-age drama "Fleet of Time" took first place at the Chinese box office last week after only three days in theaters.
The film adaptation of author Jiu Yehui's popular novel, "Fleet of Time" nabbed just over $33 million over the weekend.
"Fleet of Time," which stars actors Eddie Peng and Ryan Zheng, and actress Ni Ni, follows a group of school friends whose formative years take place during China's transformation in the 1990s and 2000s.
The film kept John Woo's anticipated historical epic, "The Crossing" at bay in second place.
In its six-day opening, "The Crossing" pulled in roughly $18.6 million, almost half as much as "Fleet of Time."
In third sat "Women Who Flirt," which pulled in another $13 million at the box office, while "Interstellar" is still going strong in China's top-five, netting another nine million to bump its total mainland gross to nearly $120 million.
Related:
Film 'Fleet of Time' premieres in Shenzhen
The Crossing premieres in Taipei