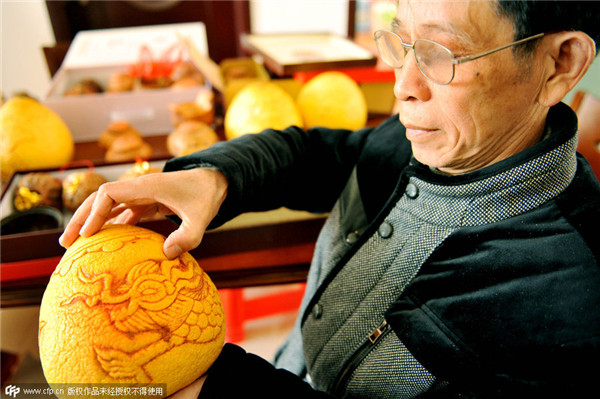 Zhu creates an artwork on a grapefruit skin in Guangfeng county, Jiangxi province, Dec 8, 2014. [Photo/CFP]
Grapefruit skin goes into the garbage can for ordinary people but to Zhu Guogen, it's treasure which can be made into art work.
Zhu, a retired man from Guangfeng county, Jiangxi province, has been creating on grapefruit skin for over 40 years. The art form was first created by his ancestor, Zhu Tingrui, who pinched a grapefruit while smoking and unconsciously created the art around 500 years ago. He created a tobacco pipe with grapefruit skin which has been kept until now.
To create an artwork on grapefruit skin, Zhu Guogen first paints a pattern on the dried fruit skin before pinching and pressing it according to the pattern for one or two months. When the creation nears its end, he cuts a small hole on the bottom of the grapefruit and pulls the fruit out and then stuffs the skin with insect-proof herbs. At last, the grapefruit is dried until the skin becomes tough.
Zhu has created more than 500 pieces of such artworks, including opera facial masks, tripods, lanterns and more. But he finds the handicraft in danger of extinction as no young people want to carry it on. He is willing to teach the craft for free to any young people who want to learn.