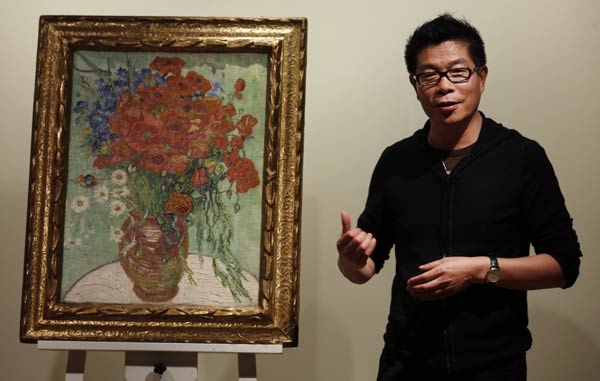 Wang Zhongjun, chairman of Huaiyi Brothers Media, one of China's largest home-growth entertainment companies, speaks beside Vincent van Gogh's "Vase with Daisies and Poppies" at Sotheby's in Hong Kong December 6, 2014. Sotheby's New York Impressionist and Modern Art Evening Sale on November 4 sold the painting to Wang for $61.76 million, setting a new auction record for any still life by the artist and the highest auction price for Van Gogh since 1998, according to Sotheby's. [Photo/Agencies]
Wang Zhongjun, co-founder of Huayi Brothers Media Corp., picked up the Vincent Van Gogh painting on Saturday (December 6) that he bought for $61.76 million at an auction in New York in November.
The amateur artist and collector submitted the winning telephone bid for the rare still life 'Vase with Daisies and Poppies' painted weeks before the artist's death in 1890.
"Yes, I just had a feeling that wanted to buy it after I saw this painting, but it's not a must-do as you don't even know how much they'll sell it for. I just wanted to give it a try," he told reporters at Sotheby's Hong Kong where he was picking up his painting.
Sotheby's said that the sale set several records, one for the highest price paid by a Chinese buyer of western art and another for the highest price ever paid for a Van Gogh still life.
It is also the highest price paid for a Van Gogh since 1998 Sotheby's added.