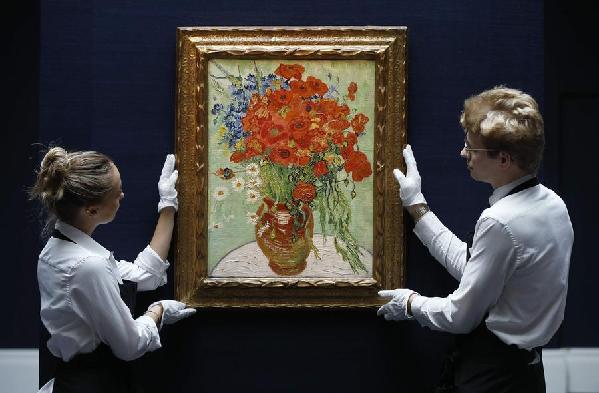 Two staff members pose in a gallery with "Still Life, Vase with Daisies, and Poppies" by Vincent Van Gogh from 1890 at Sotheby's auction house in London October 10, 2014. [Photo/Agencies]
Film mogul Wang Zhongjun's purchase of Vincent Van Gogh masterwork for $61.8 million has set off an Internet debate about lavish spending, with experts saying China's high-profile art buying has only just begun.
The 1890 painting, Nature Morte, Vase aux Marguerites et Coquelicots, was estimated to be worth as much as $50 million, according to the Shanghai news site The Paper, but fierce bidding and Wang's determination forced the auction price even higher.
Created one month before the artist's death, the vibrant painting is considered both a rare masterpiece and a savvy investment. Experts say the purchase also says something about the discerning taste of Chinese art buyers. Art dealer Huang Liaoyuan told the Beijing Times the trend of Chinese tycoons snapping up famous Western art started just two years ago.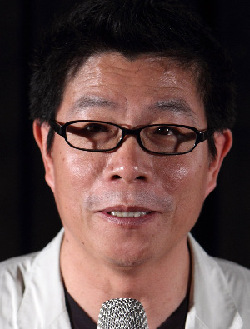 Wang Zhongjun, chairman of the high-powered Huayi Brothers film studio
"The phenomenon of Chinese people buying more and more foreign and domestic artworks is a reflection of the improvement of Chinese artists' art connoisseurship and purchasing power," Huang Xianliang, dean of the college of art in Sichuan University, was quoted as saying by the Chengdu Commercial Daily.
Huang added: "Collecting famous works from well-recognized artists only benefits and will not lose, as they are so rare. It takes much more risk to collect contemporary arts, which requires that collectors have good judgment."
Art dealer Li Suqiao said the focus of the new breed of Chinese collectors is on iconic Western artists like Claude Monet, Pablo Picasso, Paul Cezanne, Paul Gauguin and Van Gogh.
Li said that despite the price, the purchase shows Wang's artistic leanings and his respect for art.
In fact, Wang, the chairman of China's Huayi Brothers film studio, is said to be an astute art collector. The Modern Express reported that he has antique furniture from France and has collected hundreds of sculptures and oil paintings in his villa in Beijing.
The costly purchase also sparked a hot discussion on China's social media platforms about Wang and Huayi Brothers. Some netizens described Wang as Tuhao, the Mandarin term for a new class of the lavishly rich and tasteless.
Wang's supporters tend to disagree with the label. According to The Paper, Wang has held a solo painting exhibition in Beijing last December. He was quoted as saying, "My paintings have powerful visual impact, and are collected in many of my friends' home. Famous people like Chinese entrepreneurs Ma Yun and Shi Yuzhu, singer Wang Feng and actress Song Dandan all have my paintings."
Wang has claimed that all revenue from selling paintings, an estimated $1.6 million has all been donated to the charitable foundation of Huayi Brothers.
Still not everyone is convinced. As the netizen @ameng put it: "In the past, I thought people buying paintings with millions of money are idiots. Now, I realize that it can be an investment. Buying art using spare money can bring enjoyment, and may be even add value, which seems fair enough. The most important is that he can show off to others as a Tuhao."