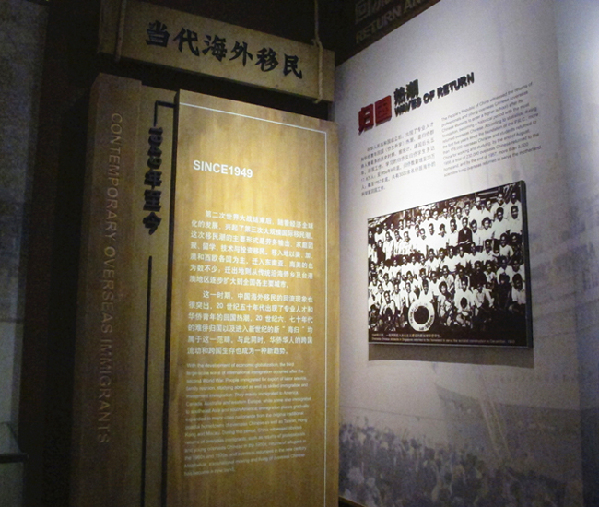 The photo taken on December 5, 2014 shows the museum which tells the history of contemporary overseas immigrants. [Photo/CRIENGLISH.com]
The initiative of establishing an overseas Chinese history museum was finally realized fifty years after Tan Kah Kee, a patriotic overseas Chinese leader, first put forward the proposal in 1960. It was a gray modern building enclosed with traditional Chinese corridors, and that's how the first national museum of its kind looks like.
Located in Chaoyang district of downtown Beijing, the museum covers an area of 12,765 square meters, housing around 10,000 pieces of antique objects. Most of its collections are photos, documents and articles of daily use at different times.
The exhibition is arranged in chronological order and categorized according to different themes.
A total of four rooms respectively tell the history and lives of overseas Chinese as well as their contributions to local communities and China's modernization drive, comprehensively presenting the history, current status and future trends of overseas Chinese.
Overseas Chinese usually leave their motherland for various reasons but they never give up seeking a better life nor forget who they really are. The exhibition provides visitors with the opportunity to know these brave and tenacious people.
The history of overseas Chinese dated back to Shang Dynasty (about 1600 BC-1046 BC) and was intertwined with major events in China and the world as a whole in modern times.