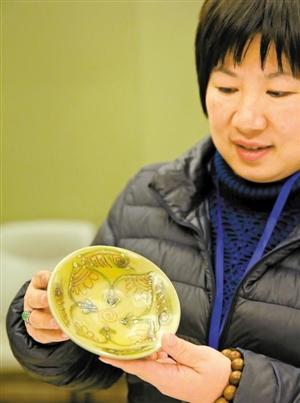 A staff from the Shanghai Museum shows a restored ancient ceramic. [Chinanews.com]
The Shanghai Museum announced it has successfully restored 10 ancient ceramics from the Qinglongzhen site on Dec 3.
"These ceramics provide an intriguing insight into the history of Shanghai,"says Chen Xiejun, the museum director, adding that the artifacts show Shanghai was an important trading center as early as the 7th century.
Qinglongzhen is located at suburban Shanghai's Qingpu district. From 2010 to 2012 archaeologists unearthed a large number of ceramics there. The ceramics were made in kilns from different parts of China and dates from the 7th to the 13th centuries.
Many of the artifacts were seriously damaged, including some extremely rare items such as a Tang dynasty paigu drum (waist drum) in brown glaze from the Changsha kiln, decorated bowls and ewers (pitchers) from the Changsha and Yue kilns, and a floral-patterned basin from the Song dynasty.
The restoration has been completed with maximum perfection, thanks to financial aid from the Bank of America Merrill Lynch Art Conservation Project, says Bu Weimin, director of restoration at the Shanghai Museum.
In order to best protect the antique ceramics in their original condition, the restoration has been done through cold glazing, which means the work can be redone later once more advanced technology is available to do it better.
These restored pieces will go on display at the Shanghai Museum sometime next year, after the exhibition for ceramics is renovated, according to the museum.