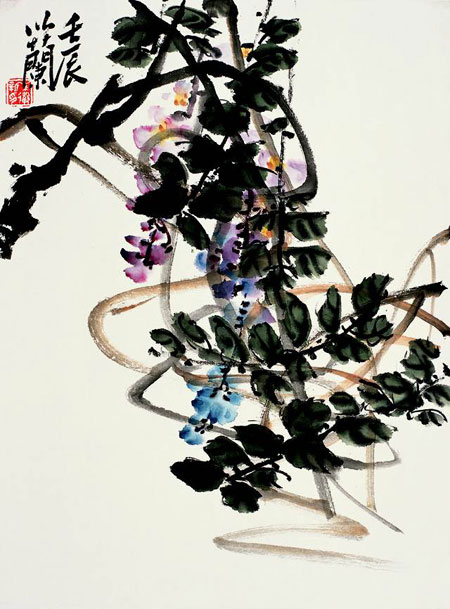 Vines are the subject of most paintings by Fuzhou-based freehand painter Zhu Weixin. [Photo/China Daily]
Flowers and birds are common subjects under the brush of Chinese painters. Fuzhou-based artist Zhu Weixin is trying to inject new life into his own paintings of this genre, and his efforts were well-presented in his just-concluded solo show in Beijing.
The exhibition, which displayed 60 selected paintings of the artist, evoked the spirit and imagery of traditional Chinese brush painting, but with a contemporary twist. Here flowers and birds dominated, in a bold but delicate hand.
Fragrant Chrysanthemum, a painting hung closest to the entrance of the gallery, was reminiscent of works by the freehand master Wu Changshuo (1844-1927).
Wu helped reshape Chinese painting and was hailed as one of the "four masters of the Shanghai painting school in the late Qing Dynasty (1644-1911)". The school departed from the aloofness of the previously dominant literati painting and adopted a fresh style that incorporated Western painting techniques to apply vivid and contrasting colors.
Zhu, 46, says that his father, Zhu Jialu, also a flower-and-bird painter, was greatly influenced by Wu's style as the Shanghai-born artist had long and close contacts with Wu's disciples in the early years of his career. Although brought up in Fuzhou, the capital of Fujian province, Zhu Weixin naturally incorporated Wu's style under his father's tutelage, which could be regarded as homage to the late master.
Zhu has never ceased to develop the ancient art. As the style and technique of Chinese painting have varied greatly over the years, that tradition allows for personal experimentation and development.
What Zhu brings to his work is a blend of rich and expansive traditional methods and subject matter, but new approaches to execution.
"In Zhu's work, colors are bright but elegant, brush strokes dynamic but not wild, compositions are unique but not grotesque. All these make Zhu different from most of the other contemporary artists," says He Yongze, a Beijing-based independent art critic.
Vines are the subject of most Zhu's paintings, though in his compositions he scrupulously avoids duplication.
Zhu has traveled across the country in his quest to draw from nature. "More important than the visual image is the message behind the painting," he says, noting that he aspires to express the blend between his soul and the universe, and love of life in his work.
That spirit could be seen in one of his fan paintings, which was hung near the end of the gallery. The image is a cluster of loquat fruits, still on the branch, looking teasingly delectable behind a sheaf of dark green leaves-mildly sensual and exposed for the picking in their yellow splendor.