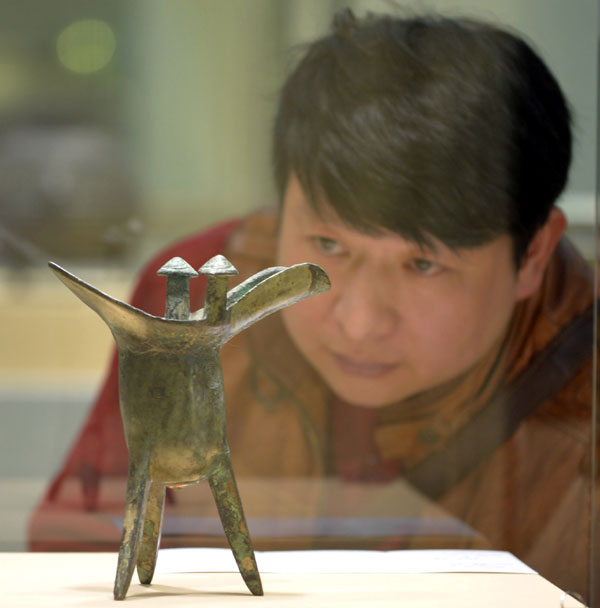 China's antique bronzeware under the hammer of Xiling Yinshe Auction Company in Hangzhou is among the first of its kind in China. [Photo/China Daily]
Art spending in China slows in 2014 as collectors seek masterworks at home and abroad, Deng Zhangyu reports.
Although deals in the Chinese mainland art market shrank a little in 2014 compared to last year, the continuing strong demand for masterpieces of antique paintings and scrolls, Chinese collectors' rise on the international stage and diversified auctions are all sustaining hope in the growth of the art market.
Sales in auction houses in China from January to September totaled 15.3 billion yuan ($2.5 billion), says Ouyang Shuying, deputy general-secretary of the China Association of Auctioneers. With autumn auctions ringing down the curtain, major houses like China Guardian and Poly that represent more than half the art market have seen an average 20-percent drop in sales.
However, experts who attended last week's Chinese Art Market Summit say that China's art market is "never in need of money" but is currently in need of confidence and masterpieces.
White Pagoda Hill, a set of hand scrolls by Emperor Qianlong of the Qing Dynasty (1644-1911), fetched 116 million yuan at a Poly auction on Dec 2, setting a record for Chinese paintings and calligraphy in 2014.
"It's really hard for us to persuade collectors to sell this year," says Dong Guoqiang, president of the Beijing Council International Auction Company. "China's art market is still in a transitional year. But we are not short of money. Just look at China's stock market. It achieved 1.2 trillion yuan in a single day."
Dong laments that there are few high-quality artworks to attract good prices-meaning prices over 100 million yuan-offered by Chinese collectors this year. But that hasn't prevented them from turning to the international market to invest in Western art.