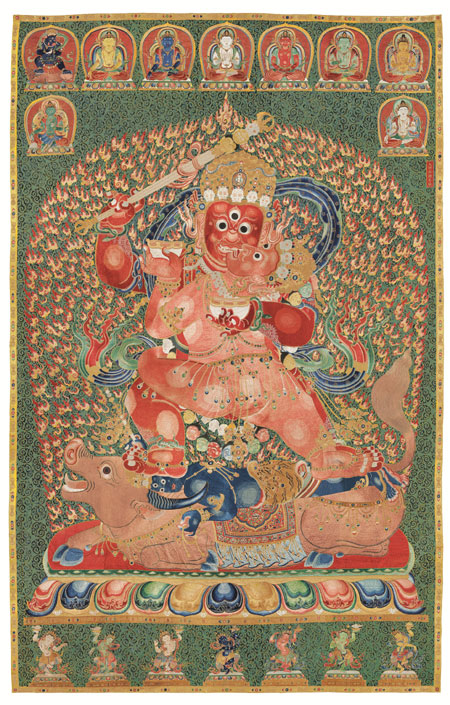 Collector Liu Yiqian offers HK$348 million ($44.9 million) for this embroidered silk thangka in a November auction. [Photo/China Daily]
After Wanda Group's real estate mogul Wang Jianlin bought Picasso's Claude et Paloma at Christie's for $28.2 million, movie tycoon Wang Zhongjun purchased Van Gogh's 1890 painting Still Life, Vase with Daisies and Poppies for $61.76 million at a Sotheby's autumn auction in New York in November.
Talking about his expensive purchase, Wang Zhongjun says the price is $10 million lower than his expectation.
"I loved it at first sight when it was on a preview in Hong Kong. I didn't think much before my purchase. Just love it," says Wang Zhongjun, who started painting himself in primary school.
His paintings are similar to impressionists', and he likens his style to that of Italian artist Amedeo Modigliani. Before the Van Gogh, he has bought paintings by Monet, Cezanne and Renoir.
"I enjoy sitting on a couch and watching these masterpieces hanging on walls at my house with a cigar," adds Wang Zhongjun, whose collection also includes Chinese paintings and sculptures.
Unlike Wang Zhongjun's buying of Western artworks, collector Liu Yiqian made several big overseas purchases of Chinese antiques.
Early this year, Liu bought a chicken cup that was used by emperors of the Ming Dynasty (1368-1644) at a Sotheby's auction for a record price of $36.3 million. In November, he offered HK$348 million ($44.9 million) at Christie's auction for an embroidered silk thangka.
After buying the thangka, Liu joked on his micro blog, saying "I exhausted myself to successfully win the thangka from a foreign bidder. I was so willful". The post won him a nickname from netizens: "willful man".
But Liu explained later, at the Chinese Art Market Summit 2014, that he bought the thangka due to his deep fondness of it.
Both purchases at such high prices have stirred some criticism from the public on the value and prices of artworks.
"It's childish to only focus on the price of an artwork. We should spend more time understanding their priceless value," says Liu, who established the Long Museum, a private museum in Shanghai.