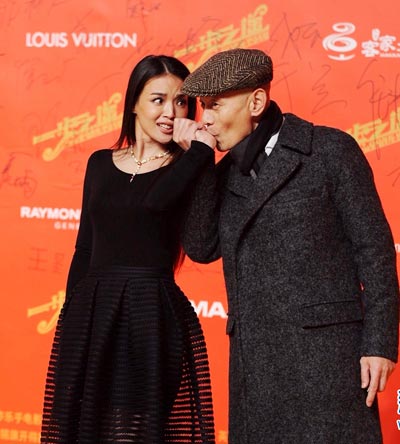 Actor Ge You (R) kisses hand of actress Shu Qi at the world premiere of "Gone with the Bullets" in Beijing, capital of China, on Dec 15, 2014. World premiere of director Jiang Wen's new movie "Gone with the Bullets" was held in Beijing yesterday. [Photo/Xinhuanet.com]
One of the most anticipated movies of the year, "Gone with the Bullets," held its late but still grand world premiere in Beijing on Monday. The film received lukewarm and mixed responses after the screening.
"Gone with the Bullets," directed by top Chinese actor-director Jiang Wen and produced by Beijing Bu Yi Le Hu Film Company, was originally scheduled for a lavish premiere on Dec 8. However, on Dec 7, serious drama occurred when Chinese censors slammed the filmmakers with demands to adjust or blur some explicit lines and scenes related to sex and possibly to politically sensitive concepts.
The premiere had to be delayed. The producers and studios spent at least another two million yuan per week in order to keep the venue ready and on standby. The whole movie went back to the cutting room to receive more adjustments and alter dubbings until China's film censors were satisfied and gave final approval. Producers promised that the adjustments were minor, and the running time of the film remained the same at 2 hours and 20 minutes.