A bigger slice of the action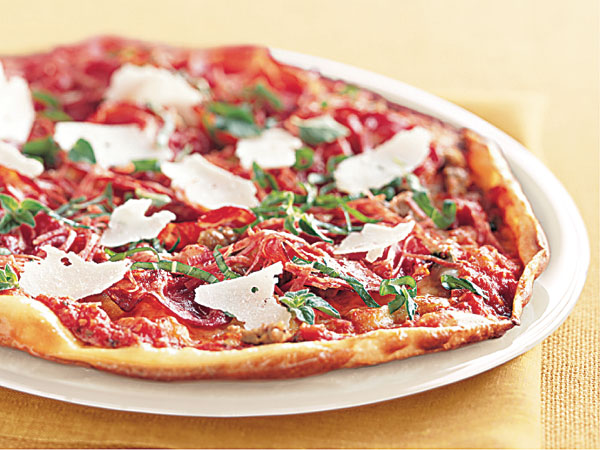 [Photo provided to Shanghai Star]
After earning his spurs in the kitchens of The Westin, The Sheraton, Sens on the Bund, and a sprinkling of other top-notch venues, Simpson Lu fi nally got the chance to become his own boss in November 2010. Sort of. The Shanghai-born chef might not actually own California Pizza Kitchen (CPK) but he is in sole charge of both kitchen and frontof- house at this Sinan Mansions'stalwart.
"It's certainly a responsibility to be the head chef, and then to have to manage the rest of the restaurant as well," the 31-year-old tells Enjoy Shanghai. "In hotels, for example, these jobs are strictly demarcated, so it's a great opportunity to learn how a business operates across the board."
It was a task that management back in sunny California evidently felt he was ready for, and a vote of confi dence from a company that, to date, has opened 250 outlets in 11 countries. And for added pressure, the Shanghai branch was also CPK's China debut.
"For sure it was a big step, and unlike all their other Asia operations that are franchises, they decided to manage it directly to begin with," says Simpson.
Two years ago a private franchisee took over the lease, but the links to CPK headquarters are still strong, with a mainland-based 'brand ambassador' on hand to ensure the business adheres to its ethos of creating "innovative, hearth-baked pizzas", a slice of PR blurb that Simpson insists lives up to the hype.
"They are very innovative," he says. "The problem with most fast food places is that they use the same sauce on every pizza and just change the toppings. Every one of our 16 pizza sauces is a unique recipe that has been formulated to complement the toppings perfectly."
The largely local customer base evidently agrees and on Saturday and Sunday, at least, the place is teeming. The kids-eat-for-free policy at weekends is undoubtedly a big draw, as well as is the spacious second-fl oor layout overlooked by a canopy of green from Fuxing Park over the road.
The company is also focusing on increasing brand recognition and in recent years has taken part in outside events such as the regular California Week. Still, the sta are honest enough to admit that business could be better; as good, in fact, as in CPK's second outlet in the popular Kerry Parkside shopping mall in Pudong.
"Sinan Mansions has really struggled to get the number of visitors that were envisaged when it first opened, and it hasn't been easy for any of the tenants here," adds Simpson. "We're planning a third outlet in the city in 2015, and we will probably choose a shopping mall again because of the better foot traffic."
IF YOU GO
California Pizza Kitchen Address: 2/F, Bldg 1, Sinan Mansions, 507 Fuxing Middle Road