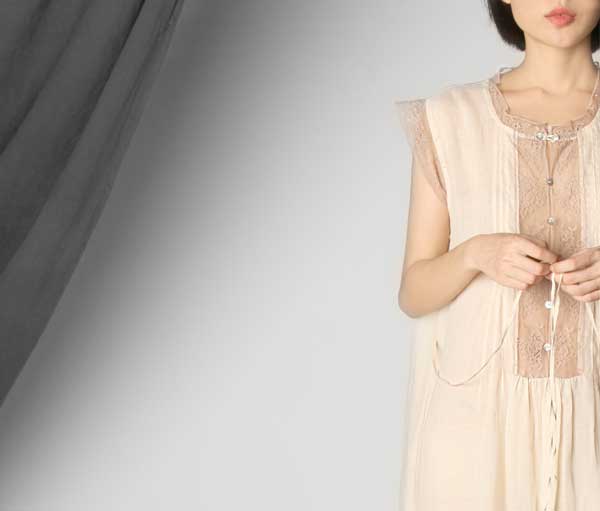 A "sleep gown" designed and sewed by Yu. The collection is made with delicate linen and decorated with Italian lace and embroidered Japanese silk ribbon. [Photo provided to China Daily]
Designer Emily Xiaodan Yu unveils her latest book while trying to promote lingerie culture in China. Sun Yuanqing reports.
Fashion designer Emily Xiaodan Yu, who went to learn and earn in New York more than a decade ago, has unveiled her latest book: On and Beyond, A View on Fashion by a New York Designer. The book is based on columns she wrote for Shanghai-based The Bund magazine in the past two years, during which she spoke of well-kept secrets of many outlet stores, the fallout from fashion world's fast pace and questioned the hesitation toward Chinese-made products, among other issues. "Consumers have the right to know about the outlet stores, so they can choose for themselves. The brands need to know it's more important to make clear 'made by whom' rather than 'made in where', so they can position themselves better," says Yu, 48.
Literary critic Li Tuo says Yu offers a very different perspective as an insider.
"People see fashion, but they don't always see the empire. The book talks about the fashion empire and its secrets, and the secrets of buying and selling," he says.
While the industry has given Yu the insight, expertise and resources, its mass-production nature hasn't always allowed her to create what she wanted as a trained lingerie designer - delicate pieces with attention to detail.
She founded her own made-to-order label emily yu last year and has so far launched three nightwear collections.
One of them is inspired by the 19th century, when young women spent their whole youth working on their dowries with linens as the staple. It was basically their "Facebook", Yu says.
Her collection is made with delicate linen and decorated with Italian lace and embroidered Japanese silk ribbon. The fabric is manually dyed in small quantities with tea in Yu's New York home studio. A variety of tea leaves that were soaked for different lengths of time give it rich fragrance and natural colors.
Yu says on her website that the brand is attached to a strong classical feeling, and all the items are made by her, including designing, tailoring, stitching and embroidering. She accepts small orders only, and one order usually takes a month to finish.
Although her income from the brand is not comparable to what she earlier earned as a designer in big fashion houses, she enjoys the freedom to create "beautiful things and the interactions with her clients".