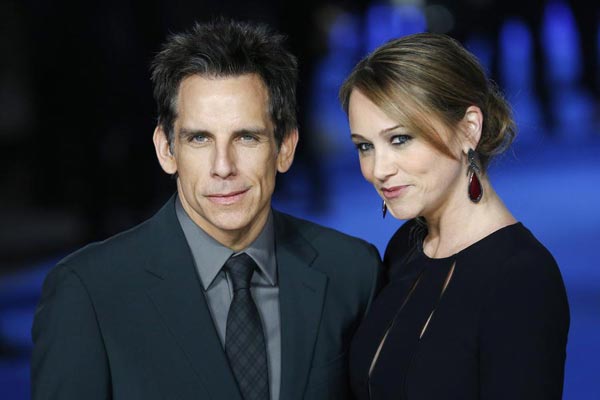 Actor Ben Stiller and wife Christine Taylor arrive for the European premiere of "Night at the Museum: Secret of the Tomb" at Leicester Square in London December 15, 2014. [Photo/Agencies]
For the third installment of the lucrative "Night at the Museum" series, the filmmakers wanted to make a film about saying goodbye.
As fate would have it, the sequel, entitled "Night at the Museum: Secret of the Tomb" would be comic legend Robin Williams' final appearance before the cameras, as well as the penultimate film featuring veteran nonagenarian actor Mickey Rooney, both of whom died in 2014.
The credits for "Secret of the Tomb," which opens in US theaters on Friday, read "In loving memory of Mickey Rooney," and "For Robin Williams - the magic never ends."
In the latest installment, the plot of which might best be distilled as "Night at the British Museum", Stiller, his teenage son and the museum's come-to-life characters must travel to London to save the decaying magical tablet that animates the natural history museum's exhibits each night.
Back for a third go-round in the series, which has so far generated nearly $1 billion at the worldwide box office, are Ben Stiller as the night security guard, Owen Wilson and Steve Coogan as the diminutive cowboy Jedediah and Roman Centurion Octavius, museum head Ricky Gervais, and Williams as US President Teddy Roosevelt.
Australian actress Rebel Wilson joins the franchise as a lovelorn British Museum security guard, along with Dan Stevens, of "Downton Abbey" fame, as a comically non-comprehending Sir Lancelot and Ben Kingsley as a politically incorrect Egyptian pharaoh.