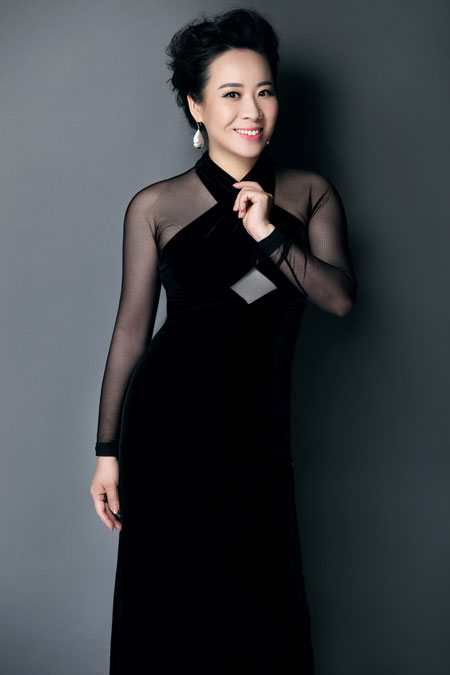 Soprano Zhang Liping has a special love of art songs though the genre doesn't have a market in China. [Photo/China Daily]
Chinese soprano Zhang Liping has released a new album, titled Schubert: Night and Dreams, in which she performs 18 romantic art songs by Franz Schubert, including Die Mainacht and Der Winterabend.
Zhang, 49, who has built an international reputation by performing with many of the world's leading opera houses, including the Royal Opera Covent Garden, Deutsche Oper Berlin and Metropolitan Opera, is dedicating the album to the beloved Austrian composer and, more importantly, hopes to introduce the music genre lieder, or art songs, to Chinese audiences.
"I have a special love for lieder, which refers to short works setting poems to music. In that category, Schubert's lieder are revolutionary. Unlike the grand and magnificent operas, art songs are soft and slow," says Zhang, who is known for playing the leading roles in Giacomo Puccini's operas, including Madame Butterfly and Turandot.
The soprano is fully aware that art songs don't have a market in China. However, she hopes to change that.
"Chinese audiences like operas because the scene is grand and singers usually perform in a high-pitched voice. In contrast, art songs are only arranged for a singer and an instrument, like a piano. It takes time and patience to immerse into the music and atmosphere," says Zhang.
She recorded the album at the Forbidden City Concert Hall, where she has performed a number of times. She will hold a concert at that venue on Saturday, along with Chinese pianist Zhang Jialin and harpist Sun Shi-meng. They will play Chinese art songs, including works by poet and composer Jiang Kui from the Song Dynasty (960-1279), and extracts from the Chinese opera Xi Shi, in which Zhang played the leading role at the National Center for the Performing Arts in 2009.
In 2012, Zhang performed art songs from the West at a concert in Beijing, and afterward "an audience member asked me why I didn't perform Chinese art songs", she says. "I felt a little bit embarrassed, so I want to make it up this time."