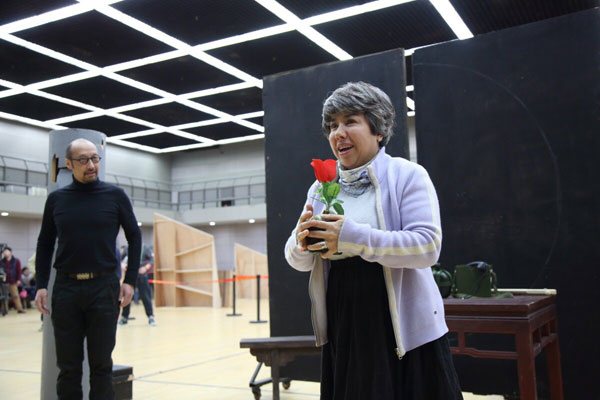 Soprano Dilber Yunus plays the leading female role in Chinese opera Visitors on the Snow Mountains. [Photo/China Daily]
A famed soprano returns to her roots with Visitors on the Snow Mountains in an NCPA concert series next week, Chen Nan reports.
Early Thursday afternoon, a group of actors was busy working on the original Chinese opera, Visitors on the Snow Mountains, which will run from Wednesday to Sunday at the National Center for the Per-forming Arts.
In sharp contrast to the feverish NCPA rehearsal scene in the center of the room, soprano Dilber Yunus and composer Lei Lei sat quietly in a corner. With musical scores in hands, the soprano murmured the tunes while following the composer intensively.
The soprano, who is better-known by her stage name, simply Dilber, will play the leading female role in the opera, adapted from the popular Chinese movie with the same name.
Set in the early 1950s on the borders of the Xinjiang Uygur autonomous region, the 1963 movie directed by Zhao Xinshui involves the love story between a 16-year-old girl and a youngman, both from Xinjiang, and how they helped the soldiers of the People's Liberation Army suppress spies.
"The movie is classic, especially one of the songs: Why Are the Flowers So Red. I watched the movie when I was little but I have never performed the songs myself," says Dilber. "It took lots of time to memorize all the lyrics and tunes and I couldn't fall asleep at night. I had to learn from zero."
The 56-year-old coloratura soprano has been hailed as the "nightingale" from China. She has achieved big success overseas by playing Gilda in Verdi's Rigoletto and Lucia in Donizetti's Lucia di Lammermoor over her 30-year career. Born in Kashgar, Xinjiang, she has been permanently signed by the National Opera House of Finland since 1988.
"When I was choosing the leading roles for this opera, Dilber's name came to my mind at once. With her great voice and exotic looks, she is the right one and the only one for the role," says the opera's director, Chen Xinyi. "When I told her that she would play a 16-year-old girl, she instantly gave me an innocent look and danced like a 16-year-old girl."