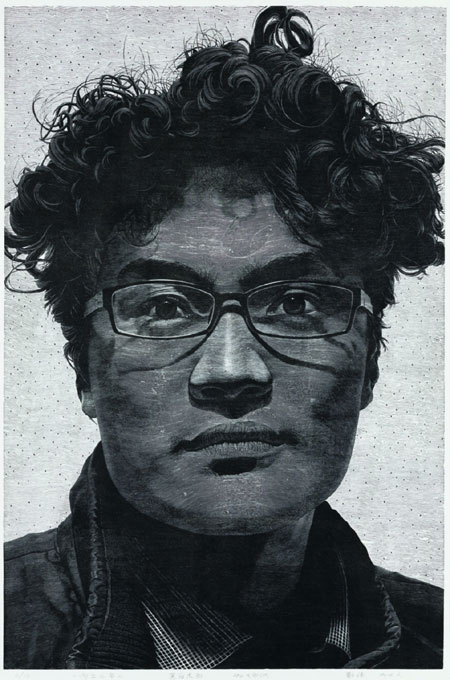 Thirty Years of Age, by Peng Wei, is one of the seven gold-award artworks displayed at the exhibition. [Photo provided to China Daily]
The 12th National Exhibition of Fine Arts, the highest-level art competition held every five years in China, unveiled its artworks on Dec 15 in Beijing, kicking off a show of award-winning and nominated works selected across the country in the past year.
The highlights of the 576 pieces on display, covering various genres of art, are the seven gold-award artworks, chosen to represent China's mainstream.
Thirty Years of Age, a woodcut depicting a young man's face, attracts the most attention among the gold winners because 35 years ago, Father, a farmer's face painted by Luo Zhongli, became a milestone oil painting in China's art world and won the painter great fame. Both artists are from Southwest China's Chongqing.
Xu Li, general-secretary of China Artists Association, the organizer of the national art competition, says the face of a farmer represented the fundamental group of the society 35 years ago.
Today, Peng Wei's face of a young man is a reflection on the young generation growing up after China opened its door to the world beginning in 1979.
Peng portrays a Chinese man in a plaid shirt with curled hair and a fashionable pair of glasses. The young man's eyes in the woodblock are hardened by strong will and confidence yet betraying some confusion, a good example of China's young generation that usually grows up in a one-child family, writes the judge who voted to give it the gold award.
Another gold-award work is a Chinese painting, A Happy Family, that portrays a family party in a scene where a young woman urges her mother-in-law to try on the sweater she had bought for her while her daughter talks to her grandpa on the wheelchair.