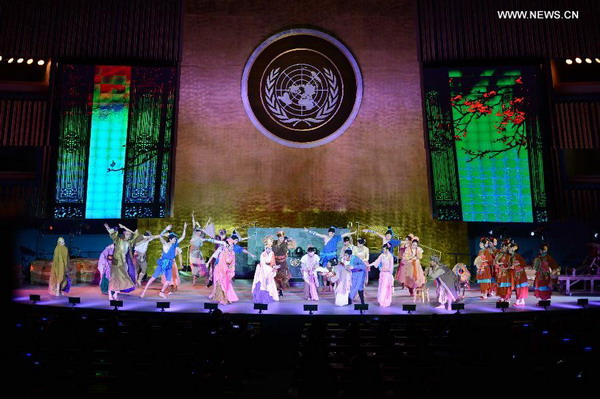 Artists perform during a Chinese Dance Drama entitled "The Dream of the Maritime Silk Road", at the United Nations headquarters in New York on Feb. 4, 2015. [Photo/Xinhua]
"I thought the story was very powerful. It was about family, love, adventure, friendship, and inheritance," Maria Kucinski said after watching a traditional Chinese dance drama "Dream of the Maritime Silk Road."
Admitting that she has never learnt anything before about Maritime Silk Road -- a sea route of the economic and cultural exchanges between ancient China and the rest of the world, Kucinski told Xinhua that she can get the concept and images of interactions in trade and culture in that period after enjoying the drama performed at UN headquarters on Wednesday night.
"There is a marketplace where everybody came...where they are able to purchase silk, tea, porcelain..." Kucinski recalled a specific scene showing the hustle and bustle of the trade and commerce 800 years ago.
The dance drama, through distinctively Chinese classical dance, tells a story of a commercial fleet in China's Quanzhou port, Fujian province: The captain of the fleet was invited by a Persian prince to together develop a new sailing route. During the voyage, the fleet was struck by a storm and the captain sacrificed his life to save the Persian prince.
"That's really wonderfully portrayed," said Alice Chen, a Chinese American who works in the UN. "I think it's really great that the UN was able to showcase all the culture, all the celebrations and all the great values that Chinese people have."
"You see the Chinese really look out for other cultures," she added.