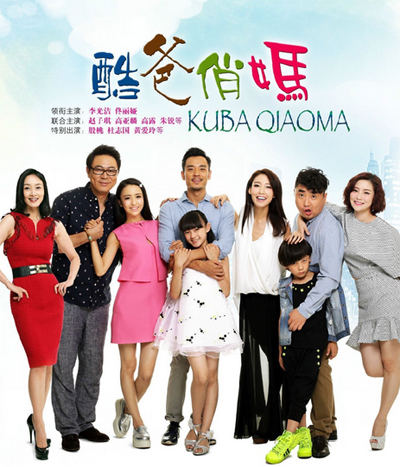 Poster for Ku Ba Qiao Ma. [Photo/Agencies]
With single parenting becoming more common in big cities, a new comedy series vows to explore the topic further.
Ku Ba Qiao Ma, or Cool Daddy and Hot Mommy, a 40-episode urban romance series, follows a script similar to the hit American sitcom Baby Daddy, in which a man's life is turned upside down after his ex-girlfriend leaves a baby girl on his doorstep.
Ku Ba Qiao Ma features veteran actor Li Guangjie, who stars as 36-year-old Chinese entrepreneur Sun Dalei. The divorced man suddenly finds he has to raise two children, aged 12 and 7, on his own, after his ex-wife moves to Hong Kong for a career promotion.
Meanwhile, his ex-wife's new boyfriend, a college professor, competes for the love of his children. Li, popular to Chinese viewers for his suave looks, says this is the first time he's played the role of a neurotic father.
"I try very hard to look mature ... But it was still a challenge, as I haven't yet been a real father," the 34-year-old says at a media event on April 10. Li says his own failed marriage gave him inspiration for the role.
The drama explores the fast changes in society, says director Ding Hei. "More and more women are eager to earn a career status, and the men have to replace their wives' roles in the families. It's interesting. And it's time to see the change on the small screen," Ding says.
The drama will premiere on Beijing Satellite TV on April 13, with two new episodes released every day.
Related:
Original cast of Journey to the West to reunite in film