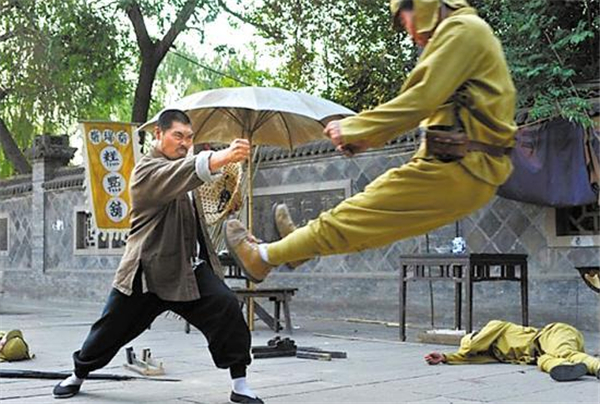 A scene from a TV series that shows a Chinese man repelling a Japanese soldier with his fist. [Photo/CRI]
Are you tired of exaggerated Hollywood action movies that defy common sense? But once you watch some Chinese dramas on the war against Japanese invasion and occupation in the 1930s and 1940s, you will realize the Hollywood flicks are much better.
In one such Chinese drama, a sniper shoots an enemy soldier 400 kilometers away, while in another Chinese fighters are shown destroying an aircraft by throwing grenades in the sky and shooting them with rifles to cause an explosion. As if these were not enough, in another drama a naked girl is shown waving goodbye to an entire battalion of Chinese fighters. The least said the better about the depiction of "foolish Japs", because all such dramas have at least one or two of them.
But hopefully, such absurd dramas will no longer be approved, for Tian Jin, deputy-director of the State Administration of Press, Publication, Radio, Film and Television, said recently that TV programs and films on the war against Japanese aggression might not be approved if they have such contents.
The War of Chinese People's Resistance Against Japanese Aggression (1937-45) was bloody and extracted great sacrifice from the Chinese people and army. By distorting this part of history, the TV dramas and films are not only belittling Chinese people's sacrifice, but also insulting their martyrdom.
Those who make such dramas say TV programs and films need not necessarily depict history; artistic rendition is necessary to tell good, historical stories. But the fact is that the makers of such dramas cannot (or do not) distinguish between "fiction" and "distortion". Fiction is rational imagination based on truth - it respects truth - while distortion means fabricating facts.