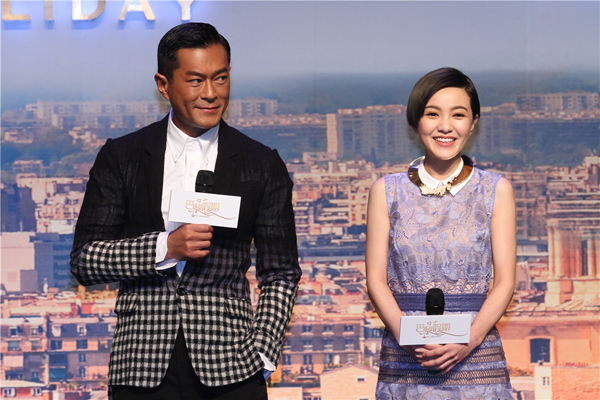 Actor Louis Koo and actress Amber Kuo at a press conference. Photo provided to China Daily
The romantic city of Paris is a favorite subject among many moviemakers. Paris Holiday, starring Hong Kong top star Louis Koo and Taiwan singer and actress Amber Kuo, will hit Chinese theaters this summer, people associated with the move announced at a recent media event in Beijing.
Revolving around a pair of mismatched roommates who fall in love after experiencing a series of misunderstandings, the movie was shot in a dozen world-renowned tourist attractions in Paris, including the Eiffel Tower and Triumphal Arch.
Koo agreed to star the movie "after reading the script for five minutes".
"It's an unlikely romance movie. Love is to do the right thing with the right person in the right timing. But in this movie, the rule is broken," said the award-winning actor.
The movie's director, James Yuen, likens the lovers' relationship in the movie to a tense and delicate connection of a rabbit and wolf.
"The rabbit (symbolizing the male role) is almost eaten by the wolf (the female role)," said the director, giving a hint at who will have the upper hand in the romance.