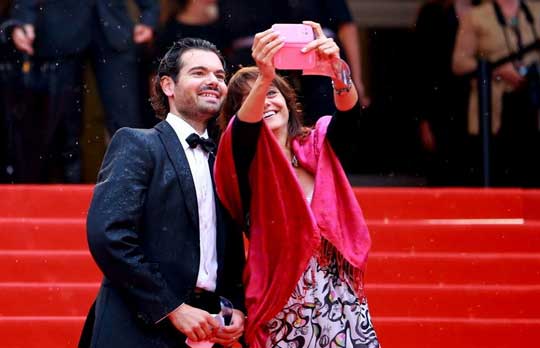 Stars take selfies on the red carpet. [Photo/Xinhua]
The 68th Cannes International Film Festival will be held between May 13 and 24 this year.
While the awards take place inside the venue, much of the publicity and excitement happens outside on the red carpet.
Celebrities, as a rule, wear magnificent attire to show off their graceful figures as well as attract public attention. However, the organizing committee announced that selfies will not be allowed on this year's red carpet.
Cannes Artistic Director Thierry Frémaux said that the committee had to implement this rule for fear that taking selfies were likely to seriously hinder security at the entire event.
The security guards may be happy, but not all were pleased with this new rule.
Smart phone companies may be annoyed as their sales volume could be negatively affected and super stars may be disappointed that they could no longer share their latest selfie photos on social media.
Domestically, the 5th Beijing International Film Festival will be held from April 16 to 23, and the 18th Shanghai International Film Festival from June 13 to 21. To date, taking selfies on these two festivals have not been banned.