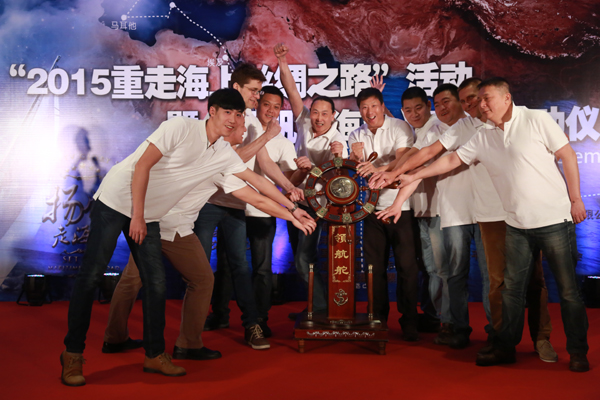 Chinese navigator Zhai Mo (sixth from right) and his team of sailors from different countries will sail the old Maritime Silk Road. Photo provided to China Daily
Chinese navigator Zhai Mo will appear in a new TV show in which he and his team, as cultural ambassadors of the new century, sail the old Maritime Silk Road, one of the earliest ancient trade routes connecting East and West.
In 2009, Zhai became the first Chinese to complete a solo circumnavigation of the globe in his yacht within two and half years.
The show, produced by Southeast TV in Fujian province, will start in Pingtan in Fujian. Zhai and his team of about eight sailors from different countries will travel across Asia, Africa and Europe, stopping in countries such as Singapore, Egypt and Greece and completing the tour in Milan, Italy.
A model of their sailboat together with videos of their trip will be displayed at the China Pavilion during Milan Expo, which will be held between May 1 and Oct 31. The crew will take cultural symbols such as Chinese ceramics and traditional paintings and host a series of cultural events, such as exhibitions of Silk Road-related artifacts and brief reviews of China's circumnavigation history, in the countries they visit on the way.
The ancient Maritime Silk Road, as the most important channel to facilitate economic and cultural exchanges between East and West, arguably started in the Qin Dynasty (221-206 BC) and flourished through the Tang (AD 618-907) and the Yuan (1271-1368) dynasties. Cities such as Quanzhou in Fujian, Guangzhou in Guangdong and Ningbo in Zhejiang province have all served as the main ports of this giant trade network. Quanzhou, in particular, is recognized by UNESCO as the starting point of the Maritime Silk Road.
Chinese specialties, including various spices and ceramics, were introduced to the West for the first time via the route, which extended to ports on the coast of India and Sri Lanka, and went all the way to Europe and the Red Sea. The route gradually lost its glory to the maritime activity ban in the Ming (1368-1644) and Qing (1644-1911) dynasties.
Yet it was in the Ming Dynasty that the route became widely known for a time after navigator and diplomat Zheng He (1371-1433) led his great fleet on a historic expeditionary voyage.
Today, the glory of the Maritime Silk Road is expected to resume, thanks to President Xi Jinping's initiatives to revive both ancient intercontinental land routes and maritime links, which are known as the Silk Road Economic Belt and the 21st Century Maritime Silk Road, often referred to as "One Belt, One Road".
"I hope to let the world see (through this trip) that China has been a country of rites and peace since ancient times, and now it's embracing the world and the future with an equally open mind," says Zhai, the navigator.
Related:
CCTV presents series on people and nature