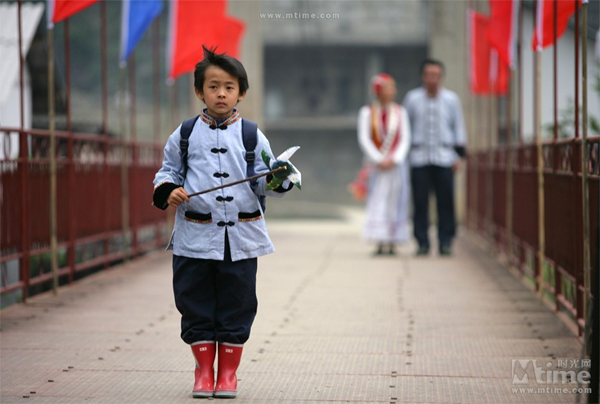 Screen capture of film "Walking to School". [Photo/Mtime.com]
Several Chinese feature films and documentaries, all screened at a renowned film festival in Houston, were warmly received by native audience and drew attention from movie professionals.
The 48th WorldFest-Houston International Film Festival, the third largest film festival in North America, had its "China Day" Saturday as seven Chinese films made or were about to make their US premiere screenings at the event.
Organizers said it was the first time that films made by Chinese producers are imbedded into the festival as a unit. The unit, called Panorama China, is composed of four feature films and three documentary shorts.
"Walking to School" tells the poignant story of a seven-year-old boy of Lisu ethnicity in China's Yunnan province who had to glide along steel cable across the river to get to school.
But finally he could be able to walk to school for the first time in his life thanks to a new bridge built from donations given by people of all walks of life.
The film's director Peng Chen told Xinhua at the sidelines of the screening that he hopes the film can touch American audience as well and broaden their view about China.
"People here are more familiar with big Chinese cities like Beijing or Shanghai, but they may know practically nothing about life in deep mountains in Yunnan. This is what my film is all about," the director said.
Other Chinese films include "So Young," directed by famous actress and producer Zhao Wei, "China Women" and "Hua Mulan" in which Zhao played the much-loved female warrior.
The WorldFest-Houston International Film Festival, founded in 1961, is one of the three original international film festivals in North America, after San Francisco and New York.
It is the only international film festival in North America to be dedicated completely to independent films, as it does not accept films from major studios.
The festival presents around 55-60 new Indie feature films and 100 new Indie short films during the ten-day film festival each April. It has given first honors to Steven Spielberg, George Lucas, Ang Lee and many more.
Related:
Paris Holiday to hit theaters this summer