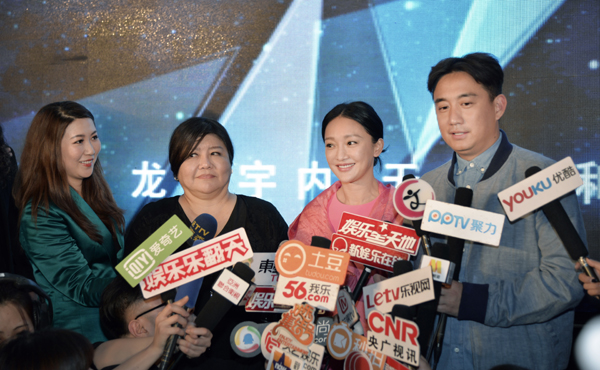 Chinese actress Zhou Xun (second right) and actor Huang Lei (right) announced they will be shareholders of Unique Media last week. Photo provided to China Daily
On the wings of the "Internet Plus" action plan promoted by Premier Li Keqiang, Chinese film stars and directors such as Zhou Xun and Chen Kexing are investing in Hakim Unique Group, a Hangzhou-based company focusing on Internet business.
Last week, other Chinese film stars including Zhou Xun, Huang Lei and He Jiong, together with famed Hong Kong director Peter Chan, announced they would be shareholders of Unique Media, a subsidiary company of a Hangzhou-based company focusing on Internet, entertainment and health.
Unique Media embraces the fields of movies, television and live performance. In the future, it will cooperate with these star shareholders in related fields, said Wu Yan, the company president.
It was also the first time for film star Zhou Xun to invest in a company. Zhou said for many years she didn't dare to buy shares, but this opportunity attracted her eye because of the company's Internet business activities such as cloud computing and big-data mining.
"Our target is not focusing on one single filed. We plan to offer a platform to integrate anything we can attract," said Wang Qicheng, president of Hakim Unique Group, who is among the wealthies entrepreneurs in their 30s in China.