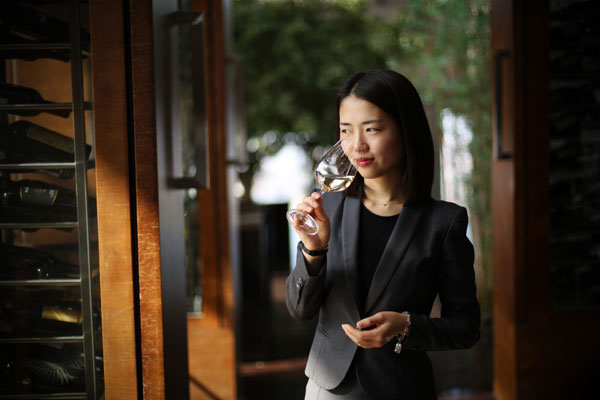 Li Meiyu, the first female Advanced Sommelier on Chinese mainland.[Photo provided to China Daily]
When Li Meiyu became a sommelier, there was no such job in China. Now she is an Advanced Sommelier.
Li Meiyu vividly remembers the first time she met the estate owner of a Burgundy vineyard.
He was exactly what Li, the first female Advanced Sommelier on the Chinese mainland, had expected: gentlemanly and not a bit pretentious. He was serious and went about his work with principles.
The man drove Li to a mountaintop at dusk, so she could get a bird's-eye view of Cote d'Or. The experience made her think of the first time she tasted wines from the vineyard.
"The acid is sharp, indicating the winemaker is very serious and applies strict standards. Yet the wine has complex scents of rose, date-flower honey and red cherry, revealing the winemaker also has exquisite and delicate senses," says Li.
"The wine bears the same characters of the maker, who produce wines with souls."
In 2009, Li won China's Best French Wine Sommelier Competition thanks to her confident eye contact, fluency in French and graceful serving of wines. In 2014, the Court of Master Sommelier accredited her Advanced Sommelier, a step closer to the Master of Sommelier.
Being a sommelier is a brand new profession in China. It was not legitimately regarded as a profession until 2014, when the job was included in a book that classifies China's occupations. Being a sommelier requires extensive wine knowledge, experience, etiquettes in introducing and serving wines to pair with food and being a versatile manager of a wine menu and stocks.