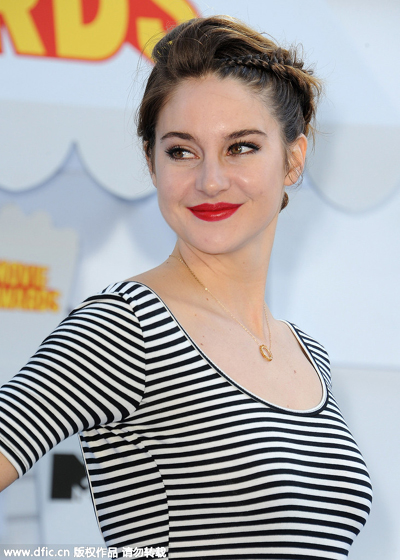 Shailene Woodley at the 2015 MTV Movie Awards at the Nokia Theatre at LA Live on April 12, 2015 in Los Angeles, California. [Photo/IC]
Vin Diesel sang, Channing Tatum danced and Zac Efron showed off his toned abs yet again as the best shirtless winner for the second year in a row at Sunday's MTV Movie Awards.
"This is definitely not the Oscars," said "22 Jump Street" star Jillian Bell as she arrived for MTV's 24th annual irreverent treatment on Hollywood award shows.
In addition to such cheeky, fan-voted honors as best kiss and best shirtless performance, the awards at the Nokia Theatre in Los Angeles also served as an unofficial promotional platform for the upcoming blockbuster season.
Almost at odds with the raunchy spirit of the show, the big winner of the evening was the teen tearjerker "The Fault in Our Stars," which got the Golden Popcorn statuette for best movie of the year as well as multiple wins for star Shailene Woodley.
Other winners included Bradley Cooper, Channing Tatum and Jennifer Lopez, as well as Jennifer Lawrence and Meryl Streep, who were not in attendance.
Woodley, who picked up the award for best female performance in "The Fault in Our Stars" in addition to the Trailblazer Award and best kiss honor (with Ansel Elgort), gave an emotional speech dedicated to the book's author, John Green.
"He gave this world a beautiful masterpiece," she said directly to Green, who was seated in the audience. Woodley said that the book changed her life when she read it and that his words will transcend the test of time.
In another poignant moment, Cooper, who won best male performance for portraying the late Chris Kyle in "American Sniper," thanked the audience for making the film such a big success and bringing attention to the plight of the soldiers.
"Chris Kyle would have turned 41 four days ago. Chris, this is for you," said Cooper.
But it was hard to be uniformly gracious when categories include other wacky awards like best villain (Streep for "Into the Woods"), and best WTF moment (Rose Byrne and Seth Rogen for "Neighbors").